Stronger Together.
The CDC Foundation works with community-based organizations (CBOs) to help build capacity and provide resources and information they need to address inequities and promote the health and well-being of our communities—especially those disproportionately impacted by COVID-19.
The CDC Foundation is continuously developing and compiling resources for CBOs to promote health education, use prevention tools, address misinformation and facilitate access to equitable treatment and healthcare services. We host a series of webinars and learning sessions tailored to CBOs and their partners to share perspectives and galvanize the crucial work they do as trusted influencers in cities, towns and neighborhoods across the country.
---
Resource Spotlight: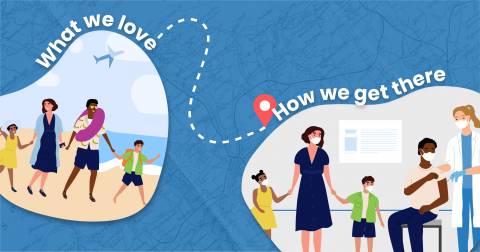 Public Health Communications Collaborative (PHCC): Messaging Resources
From topline talking points to infographics and toolkits, these vetted messaging resources are designed to help public health leaders deliver fact-based, effective, and timely COVID-19 communications in your communities. Use these resources to make sense of the latest developments, answer tough questions, and bolster your local public health outreach.
Other Webinars of Interest:
The Who, What, Where and When of COVID-19 Treatments: Everything You Need to Know About Lifesaving Antivirals (June 28, 2022)
Shifting COVID-19 Approaches for the Next Phase of the Pandemic (May 25, 2022)
The Latest on COVID-19 and Navigating the Road Ahead (April 21, 2022)
Community COVID Coalition & Vaccine Equity Cooperative: Leveraging Immunization Manager and Community-Based Organization Partnerships for COVID-19 and Beyond (February 24, 2022)
The Latest on COVID-19 Testing: What Your Community Needs to Know (February 3, 2022)
Partnering for Vaccine Equity: Using Storytelling to Promote Public Health (January 27, 2022)
Vaccine Equity Cooperative: COVID-19 And Social Media—Best Practices to Reach Your Communities (January 20, 2022)
A Conversation with the Surgeon General (November 30, 2021)
Preparing for the Child Vaccine Rollout (October 13, 2021)
Monoclonal Antibodies for COVID-19 (June 29, 2021)
Partnering with Communities to Navigate Equitable Vaccine Access (March 25, 2021)
Mental Health America: COVID-19's Impact on Mental Health and How Communities Can Move Forward (March 02, 2021)
Moving the Needle on COVID-19 Vaccine Support (January 28, 2021)
COVID-19 Vaccine Information for Community-Based Organizations (December 16, 2020)
Action Steps for Community-Based Organizations (November 5, 2020)
---
This resource page is supported by the Centers for Disease Control and Prevention (CDC) of the U.S. Department of Health and Human Services (HHS) as part of a financial assistance award totaling $45,939,536 with 100 percent funded by CDC/HHS. The contents are those of the author(s) and do not necessarily represent the official views of, nor an endorsement by, CDC/HHS or the U.S. Government. This resource contains links to external websites, the contents of which are not governed by CDC Foundation, CDC/HHS, or the U.S. Government.