Technical Assistance Helps Community Organizations Boost Capacity, Emergency Response
For most of us, "technical assistance" conjures up images of 'genius-bar' types rushing to the rescue to fix your phone, retrieve a lost file from your laptop or improve your internet connection.
But in the world of public health protection, technical assistance can mean something entirely different, far less intimidating and exceedingly valuable.
As part of a COVID-19 emergency response cooperative agreement with the Centers for Disease Control and Prevention (CDC), the CDC Foundation provides what is referred to as "technical assistance" to a variety of community-based organizations (CBOs) across the country. While financial assistance may be an easier concept to grasp and is surely always welcome, technical assistance can be equally as important—if not more so—to help CBOs build capacity and strengthen their response to the COVID-19 pandemic and their work beyond the pandemic.
So what exactly is technical assistance? At its core, it's answering questions, providing guidance and sharing key resources, including the CBO Resource Page on the CDC Foundation's website and invitations to a series of Foundation-led webinars tailored to CBOs and their partners.
As part of this work, CDC Foundation staff spend time talking with and listening to CBOs to find out what they do, how they do it and what they need to support communication outreach and vaccine access, particularly to under-resourced populations. Then CDC Foundation staff connect the dots, linking CBOs to each other, to potential public and private partners, and to local health departments. And sometimes, linking health departments to particular CBOs.
Latinos In Virginia Empowerment Center (LIVE) expands its scope to serve the Spanish-speaking and Latinx community during COVID
CDC Foundation COVID-19 Corps senior advancement officer Andrea Malloy
Colorado-based nonprofit 9Health:365 provides access to care during the pandemic to underserved communities
For example:
The Foundation helped Latinos In Virginia Empowerment Center (LIVE)—a CBO that serves victims of violence in the Spanish-speaking and Latinx community—expand its scope to address COVID-related issues and strengthen its relationship with the National Resource Center for Domestic Violence. "The connection to the CDC Foundation is special," said Gabriela Telepman, community relations coordinator for LIVE. "They are always circulating information and providing us with opportunities to participate in gatherings with other community-based organizations and attend webinars" on topics such as vaccine access and uptake. "Informing our community about the importance of getting the vaccine is really important to us, even though it's technically not directly related to our direct services of helping victims of violence."

When the New Jersey Department of Health received funding to create 31 mini-grants to engage CBOs and community health workers in the region, the Foundation provided the department of health with toolkits and best practices and offered technical assistance to CBOs applying for the grants. "The CDC Foundation folks were extraordinary in really helping us think through what these mini-grant RFPs (request for proposals) could look like," explained Assistant Commissioner Lisa Asare at the New Jersey Department of Health, Division of Family Health Services. "We had the money already, so we were really looking for the thought partnership, the expertise, the guidance… The message matters—but the messenger matters as well. If we can figure out how to fund resource support, guide, empower and build the capacity of these community organizations, it will serve us all well, now and in the future."

CDC Foundation staff actively supported Detroit's Wayne State University Center for Behavioral Health and Justice in rolling out a toolkit and monthly "Community of Practice" webinars focused on COVID-19 mitigation and vaccination uptake in jails and similar incarceration settings. The goal is to replicate the successful partnership model between CBOs, Health Departments, and local jails in additional jurisdictions. "While we had a strong reputation locally working with criminal-legal agencies across the state, CDC Foundation COVID-19 Corps senior advancement officer Andrea Malloy and senior advisor Anna Gonzales were able to engage their national network of public health practitioners to help us identify partners and innovate programming aimed at mitigating the spread of COVID-19," said the Center's director Brad Ray.

The CDC Foundation identified CBOs that could be candidates for Equity Alliance Vaccine Partnership grants and fostered relationships that had the potential to secure funding through collaboration. Among them: Colorado-based 9Health:365, a nonprofit that went from running preventive health screening fairs across the state to a revised model providing education, screening and access to care, including COVID-19 vaccinations, to underserved communities. "I think the CDC Foundation really believes in what we're trying to do, beyond COVID," said 9Health CEO Gary Drews. "We recognize this pandemic is urgent and obviously needs critical attention by world resources. But at the root of it, really, is prevention, and we wanted to make sure that message could be woven through the COVID work we're doing." He credits the CDC Foundation's technical assistance, including answering questions throughout the grants process and recommending partners that could learn from each other, with helping to build the infrastructure for a public health partnership that can hopefully be sustained well into the future.
Bottom line: a little "technical assistance" can go a long way in addressing the unique needs and challenges of a community and the organizations that serve it.
CBOs may be faith-based, provider-based or needs-based supporting communities of color, farm workers, refugees/asylees, congregate settings and other disproportionately affected populations in rural and urban areas. CBOs are as diverse as the country itself. By aligning CBO work with the public health response to COVID-19, we can help ensure equity in vaccine distribution, while also building bridges for stronger coordination and partnership to safeguard public health for many years to come.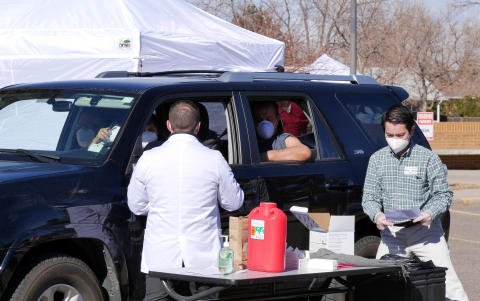 Source: 9Health:365
---
This article is supported by the Centers for Disease Control and Prevention (CDC) of the U.S. Department of Health and Human Services (HHS) as part of a financial assistance award totaling $68,939,536 with 100 percent funded by CDC/HHS. The contents are those of the author(s) and do not necessarily represent the official views of, nor an endorsement by, CDC/HHS or the U.S. Government.