CDC Celebrates 20 Years of Leadership in Injury Prevention
The CDC Foundation is proud to build partnerships on behalf of the Centers for Disease Control and Prevention's (CDC) National Center for Injury Prevention and Control. This year, the center is celebrating 20 years of leadership in programs aimed at preventing injuries in the United States and in a number of countries overseas.
Since 2004, the CDC Foundation has raised more than $15 million to help CDC reduce injuries and violence through prevention. These partnerships have helped CDC protect Americans from sports-related injuries, intimate partner violence and motor vehicle injuries and death. Recently, private-sector partners have signed on to support CDC's injury prevention work globally – supporting a trucking fleet safety program in India and an initiative to evaluate the impact of sexual violence against girls and young women in countries around the world.
Each program, several of which are highlighted below, has expanded CDC's capacity to work with local, state, national and international partners to save lives. Looking ahead, as CDC continues to build knowledge and understanding of what activities are effective to prevent injuries and violence, the CDC Foundation looks forward to new opportunities to advance CDC's work to protect our families, our communities, and our workforce and to broadly share the science of what works.
Advancing CDC's work through partnerships...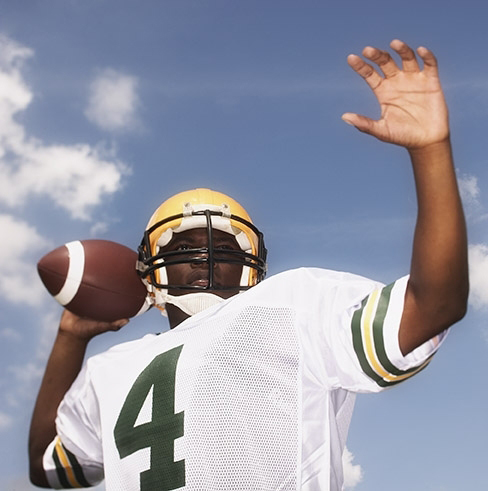 On the Field
Each year about 170,000 children and teens go to an emergency room for a suspected sports- or recreation-related traumatic brain injury. CDC Foundation partnerships allowed CDC to expand the successful "Heads Up: Concussion in Youth Sports" program to important audiences. Through a partnership with the National Football League, CDC launched a free online training course for healthcare professionals aimed at helping them diagnose, manage and prevent concussions. Also, CDC helped develop a similar educational initiative for parents through a partnership with the National Operating Committee on Standards for Athletic Equipment. Learn more about the Heads Up Campaign.
On the Road
Car crashes are the number one killer of teens in the United States. A CDC Foundation partnership with the Allstate Foundation and Allstate Corporation, allowed CDC to pilot test the Parents are the Key education campaign in two cities. CDC then was able to improve and scale-up the campaign to a nationwide outreach effort. The campaign provided education and awareness about safe driving among teenagers and activities to educate parents about the important role they can play in helping their teens adopt safe driving practices.
In Your Community
Since 2005 the Doris Duke Charitable Foundation has directed a total of $5.7 million to the CDC Foundation for several programs to advance CDC's important work to prevent child abuse. These programs enable CDC to connect to state- and community-based organizations, share science about the strategies most likely to keep children safe, and prepare public health experts across the country to lead state and local efforts to promote safe, stable and nurturing relationships for children. Learn more about the program that promotes positive parenting through innovative technology.
Around the World
India has one of the world's worst road safety records. Road injuries account for 10-30 percent of hospital admissions, placing an enormous strain on the healthcare system. A grant from the Conrad N. Hilton Foundation to the CDC Foundation is funding a collaboration between CDC and partners in India to create and test a safety program for vehicle fleet owners and truck drivers. Learn more about this partnership.
And, in Swaziland, CDC helped launch in 2007 the first national survey of violence against children – with a focus on sexual violence against females ages 13-24 – in collaboration with UNICEF and the Swaziland Action Group Against Abuse. The survey found that one out of every three females had experienced sexual violence prior to the age of 18. Leaders in Swaziland used the survey results to directly inform several key policy and prevention initiatives, including a national education campaign to expand awareness, resources for victims and greater capacity for investigating and enforcing laws.
The Swaziland effort became the basis of the Together for Girls initiative, a public-private partnership to address sexual violence against children, particularly girls. As part of the initiative, surveys have been completed in Tanzania, Kenya and Zimbabwe, with future surveys planned for Haiti, Malawi, the Philippines and Cambodia. The CDC Foundation receives support for Together for Girls from Nduna Foundation, United Nations Populations Fund and individual contributors. Learn more about the Together for Girls Initiative.
Congratulations to CDC's National Center for Injury Prevention and Control, and thank you for your continued partnership and collaboration with the CDC Foundation.
---
---
---