150 million girls under the age of 18 have been victims of sexual violence
As shocking as these numbers seem, they are likely underestimates because most cases of sexual violence are never reported to the authorities due to fear, stigma and discrimination. Millions of girls are also exploited in prostitution and pornography every year, often lured or forced into these situations through false promises and limited knowledge about the risks.
The consequences of this injustice are profound, with immense health and emotional effects on the individual as well as broader social and economic impacts.
You Can Help
Together, we can build societies where girls are safe and valued. Your gift can help protect children from sexual violence and abuse by funding violence surveillance and prevention activities.
About Violence Against Children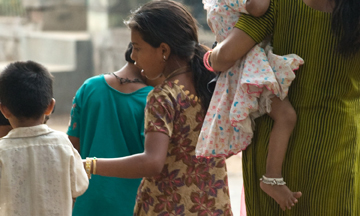 In 2002, the World Health Organization estimated that 150 million girls under the age of 18 had experienced some form of sexual violence. Studies also indicate that as many as six out of ten sexual assaults are committed against girls ages 15 and younger.
Girls who are victims of sexual violence are three times more likely to have an unwanted pregnancy, and girls under 15 who are pregnant are five times more likely to die in childbirth than women ages 20 to 24.
Girls who are victims of sexual violence are also at increased biological risk of contracting HIV/AIDS and other sexually transmitted infections. Even if a girl is not infected with HIV directly following an act of sexual violence, research indicates that she becomes more likely to contract infectious and chronic diseases afterwards. This is because sexual violence alters the life path of many girls, leading them down a road of depression, substance abuse and highrisk behaviors.
About the Together for Girls Program
Working with national governments and civil society, the Together for Girls partnership is taking practical and effective steps to tackle sexual violence against girls. Partnership efforts focus on three pillars:
Conducting national surveys and collecting data to document the magnitude and impact of sexual violence against girls to inform government leaders, civil society and donors.
Supporting a plan of action at country level with interventions tailored to address sexual violence. These range from national policy-level dialogue and legal reform to improved services and community-based approaches.
Launching communications and public awareness campaigns to draw attention to the problem and motivate changes in societal and gender norms and behaviors.
To date CDC has assisted the governments of Swaziland, Tanzania, Kenya, Zimbabwe, Haiti, Cambodia, Indonesia and Malawi in completing national Violence Against Children Surveys to understand the magnitude and nature of sexual, physical and emotional violence against children. Led and owned by national governments, with support and technical assistance from Together for Girls partners, the surveys have greatly advanced understanding of the scale of the problem, the link to gender inequality and HIV, and the circumstances that make children more or less vulnerable to violence. Most importantly, the data have sparked national action from country leaders and civil society.
Learn More: Contact Laura Angel, langel@cdcfoundation.org or 404-523-1788.
Photo: © UNICEF/Haviv