ISSUE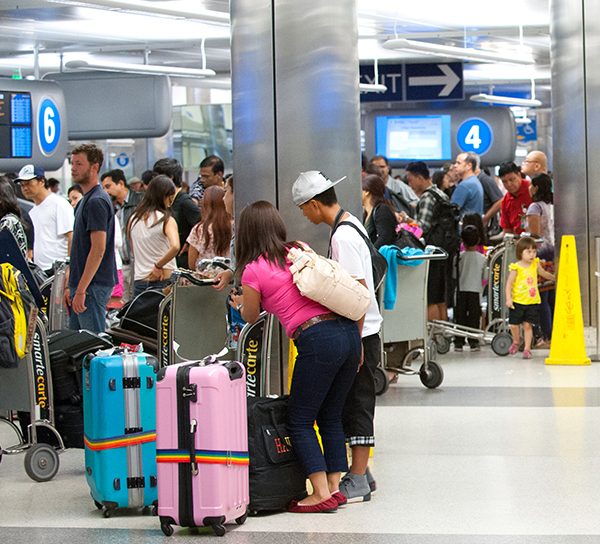 Every day, millions of Americans travel through the nation's airports, yet most transportation options for travelers to reach different areas of the airport, such as trains and shuttles, are sedentary versus active.  
The Physical Activity Guidelines for Americans recommend that adults get at least 150 minutes of moderate-intensity aerobic physical activity or 75 minutes of vigorous-intensity physical activity, or an equivalent combination each week. Walkable wayfinding, including walking to destinations in airports, is one easy way for individuals to meet physical fitness guidelines.
WHY IT MATTERS
Physical activity is an important part of a healthy lifestyle that can help people reduce their risk for chronic diseases such as heart disease, type 2 diabetes and some cancers. 
Walking in an airport for at least 10 minutes can help people meet physical fitness guidelines. Shorter bouts of walking can help people begin to make physical activity part of their daily routine.
SOLUTION AND IMPACT
The Atlanta airport averages more than 270,000 passengers daily, with a prime opportunity to test whether signage would increase people's willingness to walk to their flight instead of taking the train. At the end of one year, even if only 5 percent of passengers chose to walk versus the train, that would increase the public's walking by approximately 44 million minutes a year. 
Thanks to a CDC Foundation partnership funded by the Kresge Foundation, CDC created the Walk-to-Fly study in an effort to increase walking in the Atlanta Airport and encourage travelers to make an active choice rather than a sedentary one. 
In September 2014, the Walk to Fly study posted four strategically-placed wall-mounted signs to encourage walking. Additionally, CDC researchers conducted face-to-face interviews with about 600 travelers to assess barriers to airport walking and physical activity. 
Insights from the interviews led to more effective messaging for the airport signage. Many travelers who were interviewed were unaware that walking was an option. They were also unsure of where to walk and how long it would take them to walk to their gate, describing these factors as key barriers to airport walking. By displaying directions to gates and estimated walk times on the signs, thousands of travelers chose to walk instead of ride the train. That increase is being measured by ceiling-mounted thermal sensors at the Atlanta airport. These monitors are determining how many travelers are now choosing to walk instead of ride the train. 
Broad dissemination activities and publications related to this innovative project are reaching many audiences in ongoing efforts to increase the number and frequency of people walking nationwide.