Hepatitis Screening in STD Clinics in Baltimore
It is sobering that approximately 18,000 Americans die from hepatitis-related deaths each year and many individuals living with hepatitis are unaware of their status. To date, only six percent of individuals infected with hepatitis C have been cured.
This year, in observance of World Hepatitis Day, more than 200 public health leaders and advocates convened at the White House for a special event to celebrate viral hepatitis accomplishments and to discuss ongoing local and global challenges and strategies to address these challenges. Selected to serve on a panel on hepatitis health policy, programs and research in the United States, I was proud to report on the City of Baltimore's success increasing hepatitis testing rates among vulnerable populations through an innovative public-private partnership that is providing free hepatitis testing at STD clinics.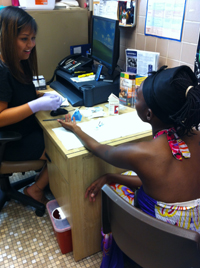 The Baltimore City Health Department and Johns Hopkins University Viral Hepatitis Center have teamed up to integrate hepatitis screening into routine sexually transmitted disease (STD) care at Baltimore City Health Department's STD clinics with support from the CDC Foundation through the Viral Hepatitis Action Coalition (VHAC). Funding provided by the CDC Foundation and VHAC has made it possible for us to provide free rapid hepatitis C testing with follow-up hepatitis C virus (HCV) RNA testing and support services for linkage to care. Johns Hopkins University Viral Hepatitis Center provides ongoing expertise for training nurse practitioners and physician assistants in hepatitis C care and serves as a referral site for hepatitis C antiviral treatment.
The Baltimore City Health Department STD clinics serve a predominantly African-American inner city population. Community members regularly utilize the clinics because their services are free. Our clinics have documented high rates of injection drug use and sexually transmitted disease putting the population they serve at high-risk for contracting hepatitis C. Since the STD clinics provide essential healthcare services to the community, and people use them, they also provide a compelling venue for the evaluation of new methods for testing and treating hepatitis C amongst a high-risk population.
This is what a patient would experience upon entering one of our clinics:
A short cartoon discussing hepatitis, its natural history and treatment, plays on the television in the waiting room providing an opportunity for patients to learn more about hepatitis.
Patients are offered a free rapid hepatitis C antibody test.
Patients receive test results after 20 minutes and have an opportunity to talk with a staff member who can provide additional information about hepatitis C.
Patients leave the clinic with more knowledge about hepatitis, information they can share in their community, but also specific knowledge about their hepatitis C antibody status.
If a patient tests positive for hepatitis C antibodies at their initial visit, they are scheduled to return a week later to get their HCV RNA results. (If they do not return for their results, a Baltimore City Health Department outreach worker goes into the community to encourage them to return to the clinic for linkage to care.)
During the first follow-up visit for HCV RNA positive patients:
The patient starts comprehensive hepatitis C care, which begins with a clinical evaluation by a nurse practitioner or physician assistant at the health department.
The clinician provides hepatitis C medical education, risk reduction counseling, alcohol use assessment and counseling and hepatitis B immunization, if required.
The patient is also seen by a project staff member who assesses barriers to fully engaging in HCV care, especially in regard to transportation and healthcare coverage.
If the patient is uninsured, the staff member helps the patient determine what healthcare benefits they may be eligible for and assists with processing an application for healthcare coverage.
Patients leave the clinic with a follow-up appointment scheduled at the Baltimore City Health Department or Johns Hopkins University Viral Hepatitis Center for further evaluation and preparation to receive hepatitis C antiviral therapy.
Our hepatitis screening project was designed to address barriers to accessing hepatitis C testing and care in a largely medically underserved population. It is an example of how a coordination of efforts can produce interventions that can effectively target at-risk groups where disparities previously existed. I hope the successful implementation of our project in Baltimore will provide a model to test and care for hepatitis C in other public health departments and community-based centers in the United States.
Learn More
The Viral Hepatitis Action Coalition is a public-private partnership developed by the CDC Foundation to help the Centers for Disease Control and Prevention make meaningful advances in the prevention, screening and treatment of viral hepatitis.
---
---
---