Viral Hepatitis Action Coalition
Funding Partners:
Abbott Laboratories
AbbVie Inc.
Bristol-Myers Squibb Company
Gilead Sciences, Inc.
Janssen Therapeutics
Merck
OraSure Technologies, Inc.
Quest Diagnostics
Siemens USA
Previous Funding Partners:
Alere North America, Inc.
Bayer Corporation
Boehringer Ingelheim USA Corporation
Genentech, Inc.
Gen-Probe, Incorporated
GlaxoSmithKline Biologicals S.A.
Kadmon Pharmaceuticals, LLC
Onyx Pharmaceuticals, Inc.
Vertex Pharmaceuticals, Incorporated
Program Partners:
CDC's National Center for HIV/AIDS, Viral Hepatitis, STD, and TB Prevention
Association of State and Territorial Health Officials (ASTHO)
National Viral Hepatitis Roundtable
The Viral Hepatitis Action Coalition is a public-private partnership developed by the CDC Foundation to help the Centers for Disease Control and Prevention (CDC) make meaningful advances in the prevention, screening and treatment of viral hepatitis.
"Viral Hepatitis is a large and under-appreciated problem in the United States," says Dr. John Ward, director of CDC's Division of Viral Hepatitis. "Up to as many as 5.3 million persons are living with hepatitis, and CDC is particularly concerned that most of those persons are unaware of their infection, meaning they can unknowingly transmit these viruses to others, and that they are not receiving the care they need that could prevent the progression to liver disease, including liver cancer, in later life."
A report on hepatitis and liver cancer issued by the Institute of Medicine (IOM) in 2010 highlighted an overall lack of knowledge about the extent and seriousness of viral hepatitis in the U.S. The report specifically called on CDC to work with public and private partners to:
increase data collection on Hepatitis B and C to provide a better overall understanding of how many people are infected, how they become infected, if and when they get tested and treated and the outcomes of their treatment
educate populations at-risk, healthcare providers and the general public about hepatitis to promote vaccination and prevention strategies and encourage screening and testing
Through the Viral Hepatitis Action Coalition, CDC is able to respond to the urgent calls to action outlined in the IOM report. Members of the Coalition help support crucial CDC-led research and programs and amplify CDC's messages to the public to increase overall awareness of viral hepatitis.
"The Viral Hepatitis Action Coalition has given us capacity that we did not have previously to launch a variety of new projects that our division believes are critically important to our success in preventing disease and deaths from viral hepatitis," says Ward.
Learn more about the Viral Hepatitis Action Coalition at www.viralhepatitisaction.org.
About Viral Hepatitis
Chronic viral hepatitis caused by hepatitis B virus and hepatitis C virus represents a major health problem for the United States. CDC estimates that approximately 3.2 million Americans are chronically infected with hepatitis C virus, with an estimated 8,000 to 10,000 hepatitis C virus-related deaths annually. The incidence of acute hepatitis C declined during the 1990s but has plateaued in recent years. While the incidence of acute hepatitis B has declined markedly since 1990, an estimated 1.4 million Americans remain chronically infected, with an estimated 3,000 to 5,000 chronic hepatitis B virus-related deaths per year. In the United States, African-Americans are disproportionately affected by chronic hepatitis C virus infection, representing 12 percent of the U.S. population but approximately 22 percent of those with the disease. A disparity by race exists for Asian/Pacific Islanders, who represent only 4 percent of the U.S. population, but over half of those with chronic hepatitis B infection.
About CDC's Division of Viral Hepatitis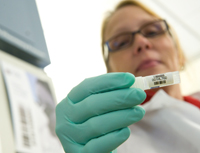 In collaboration with domestic and global partners, CDC's Division of Viral Hepatitis (DVH) provides the scientific and programmatic foundation and leadership for the prevention and control of hepatitis virus. DVH conducts research, surveillance, education and training, and evaluation to facilitate policy and design interventions to address the most common forms of viral hepatitis in the United States: hepatitis A virus (HAV), hepatitis B virus (HBV) and hepatitis C virus (HCV). These unrelated viruses are transmitted through different routes and require specific prevention strategies. CDC also conducts surveillance and investigation of other forms of viral hepatitis, particularly those common in other parts of the world, and serves as a WHO Collaborating Center for Reference and Research on Viral Hepatitis.
Learn more: www.cdc.gov/hepatitis
For More Information
For more information about VHAC activities visit www.viralhepatitisaction.org, or contact:
info@viralhepatitisaction.org.
---