Hepatitis B Screening in Hawaii
By now, most of us who work in viral hepatitis are aware that chronic hepatitis B is a major health burden that affects up to 2.2 million people in the United States. The majority of this population originates from regions of the world where hepatitis B is highly endemic, especially Asia and the Pacific Islands. Even though Asians and Pacific Islanders (API) make up less than five percent of the general U.S. population, APIs account for more than 50 percent of Americans living with chronic hepatitis B. Most of these APIs (approximately two-thirds) living with hepatitis B are unaware of their status. Hepatitis B is the greatest health disparity among APIs which is why we are addressing it within API communities in Hawaii.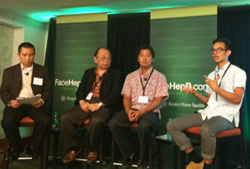 In Hawaii, more than half of our communities identify as Asian or Pacific Islander, and almost one out of five people are foreign-born. We are a state that is proud of our cultural diversity, and we recognize the need to keep all of our diverse communities healthy. When people in our state think about hepatitis B, they are not thinking about percentages or numbers. Instead, they are visualizing friends, coworkers, family, aunties and uncles – people they know and love.
Since most of our foreign-born API community members already receive comprehensive primary care and preventative health services in their native language at federally qualified health centers (FQHCs) in their communities, the Hawaii State Department of Health was excited to augment these services to include hepatitis B screenings through a partnership with CDC Foundation through the Viral Hepatitis Action Coalition. By including enhanced hepatitis B services as part of standing orders, we are able to support the API community with access to testing and treatment in FQHCs where their needs will be addressed in a culturally appropriate way.
On World Hepatitis Day, July 28, we kicked off our hepatitis B screening initiative at the FQHCs with a panel for local native language media. To ensure the initiative has a meaningful and sustainable impact in the diverse communities where we work, we have made an effort to tailor our interventions to the unique needs of each API community. We have engaged communities in "talking circles" to empower them to make decisions about how they would like to address health issues within their culture. In the end, the different communities have developed some common messages around hepatitis B:
Learn about it
Get tested
Get vaccinated
Talk to your doctor
These are simple messages, but they are messages that can save lives and keep families healthy. Ultimately, public health work in hepatitis B (as well as hepatitis C) goes beyond medical models and numbers. We are empowering diverse communities to stay healthy and take care of each other. I hope that public health officials can continue to work together to support these communities in combatting viral hepatitis for the good of everyone – our communities, our families and ourselves.

Learn more at http://hepfreehawaii.org or follow Hep Free Hawai`i on Twitter @HepFreeHawaii.
Image credit: Hawaii image on www.cdcfoundation.org/blog courtesy of Hawaii Tourism Authority (HTA)/Daeja Faris
---
---
---