Partnerships Advance Global Influenza Vaccination Campaigns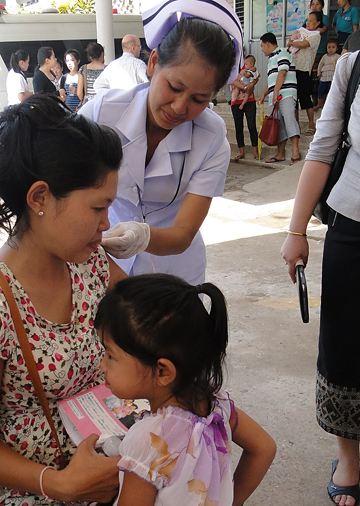 Last year, Walgreens Company donated 375,000 doses of influenza vaccine to the government of Laos in support of a collaborative effort between the Centers for Disease Control and Prevention (CDC), the World Health Organization (WHO) and the Lao Ministry of Health to develop the country's influenza public heath capacities. The vaccine was shipped by UPS and arrived before the start of the Laos flu season. It was administered throughout four provinces in Laos by the Ministry of Health and WHO. Populations at high risk of developing flu-related complications including elderly persons, pregnant women and people with underlying medical conditions were targeted for vaccination, along with health care workers.
This pilot project was highly successful, based on an evaluation performed by Lao Field Epidemiology Training students, CDC and WHO. It received the CDC Director's Award for Innovation and illustrates the value of strong public-private partnerships.
Building on last year's success, CDC, with the CDC Foundation, broadened the public-private partnership and formed a coalition including CDC, the U.S. Department of Defense, WHO, Walgreens Co., bioCSL, BD (Becton Dickinson and Co) and UPS. This year, the coalition is bringing influenza vaccine to Laos and also to the Republic of Nicaragua. Each organization is serving a unique role in this year's vaccination campaigns. Public-private partnerships like this one allow CDC resources and technical knowledge to go further because they tap into private sector expertise and efficiencies, while also leveraging private capital.
With the support of this year's coalition, Laos and Nicaragua will be able to sustain and grow their seasonal flu vaccination programs. In Laos, vaccine is being administered to pregnant women, health care and essential government workers, and people 50 years and older. In Nicaragua, the donated vaccine is supplementing additional vaccine purchased by the Nicaraguan government. Nicaragua usually targets children and health care workers, but with the donation they can also focus on pregnant women.
To promote sustainability, CDC assists countries with setting up their own flu surveillance and vaccination programs. The use of seasonal influenza vaccines in low-income countries has been highlighted as a strategic objective for pandemic preparedness and global health security by CDC Influenza Division and by WHO's Global Action Plan for Influenza Vaccines.
Influenza is a serious disease; it can cause health complications (like pneumonia) and can make conditions like asthma and diabetes worse. It can lead to hospitalization and sometimes even death. According to CDC, getting a flu shot is the best way to prevent influenza and related health complications.
---
---