Congratulations to Michael McGinnis, 2018 Fries Prize for Improving Health Recipient
Saving lives and helping the greatest number of people possible achieve their health potential is a goal that all public health practitioners aspire. Some people have the knowledge, skill, creativity and opportunity to affect people across the population, and the Fries Prize for Improving Health is awarded annually to individuals who have been chosen by an expert jury to best meet this criteria. The 2018 recipient, Dr. Michael McGinnis, will be recognized today in a ceremony at the American Public Health Association's (APHA) meeting in San Diego.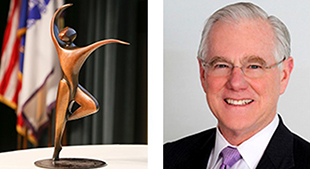 Dr. McGinnis is receiving this prestigious award for fundamentally transforming our nation's understanding about how to improve health through the publication "The Actual Causes of Death in the United States," and establishing the Healthy People process.
In 1979, McGinnis established the Healthy People process for creating and tracking national health goals. Since the Healthy People initiative began, the United States has made significant progress in improving health outcomes, including reducing major causes of death such as heart disease and cancer; reducing infant and maternal mortality; reducing risk factors like tobacco smoking and hypertension; and increasing childhood vaccinations.
In addition, Dr. McGinnis in 1993 was the lead author on the seminal article "The Actual Causes of Death in the United States," which appeared in the Journal of the American Medical Association (JAMA). This pivotal paper demonstrated the factors that determine how long and how well one lives.
Michelle Larkin, RN, MS, JD, associate chief of staff at the Robert Wood Johnson Foundation and who championed Dr. McGinnis' Fries Prize for Improving Health nomination stated, "Michael McGinnis' contributions to health and health care are incalculable. He has been pivotal in his role of guiding health policy and science. His passion and commitment to improving the health and well-being of people have been unwavering."
I am pleased to attend this year's award presentation at APHA's annual meeting. The Fries Prize for Improving Health recognizes an individual who has made major accomplishments in health improvement with emphasis on recent contributions to health in the United States and with the general criteria of the greatest good for the greatest number.
The CDC Foundation is honored to partner with the James F. and Sarah T. Fries Foundation to present the Fries Prize for Improving Health, annually each fall, and the Elizabeth Fries Health Education Award, presented annually in the spring.
Congratulations to Dr. McGinnis for this well-deserved recognition!
---
---
---