New at the CDC Museum: What's Cooking, Uncle Sam?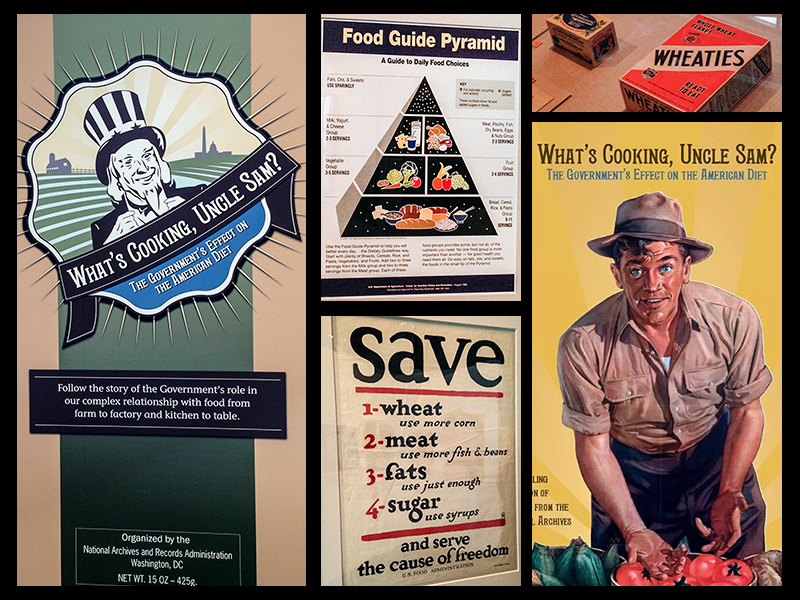 As families across America sit down together on Thanksgiving Day later this month, food will serve as a centerpiece for conversation, fun and fellowship. Food consumed by Americans has a long and complex history—a history that is explored in the David J. Sencer CDC Museum's current temporary exhibition from the National Archives in Washington, D.C., What's Cooking, Uncle Sam? The Government's Effect on The American Diet.
With artifacts ranging from Wheaties boxes to a model of a USDA refrigerated train car, the exhibit traces the origins of the food that Americans have eaten for decades.
The exhibit is divided into four sections—farm, factory, kitchen and table. Each section explores a different facet of federally-related food history. Colorful posters from various eras depict different government agencies' involvement in the creation of food-related policy, the food pyramid, guidelines for food rationing during wartime, and more.
Intersections between food, nutrition and public health are present in all aspects of the Centers for Disease Control and Prevention's (CDC) work. There isn't a single center or division at CDC that doesn't work on food-related issues. In addition, CDC works closely with the Food and Drug Administration, the Food Safety and Inspection Service and the Department of Agriculture to address, monitor and prevent food-related outbreaks.
CDC's National Center for Chronic Disease Prevention and Health Promotion emphasizes proper nutrition as a preventative measure against chronic disease.
To get an idea of population health, the National Health and Nutrition Survey (NHANES) program has been surveying the health and nutritional status of Americans since the early 1960s. The data collected from NHANES helps the government identify trends in the nation's health. A permanent exhibit about the history of NHANES is located in the Story of CDC exhibit on the museum's lower level.
Special tours of What's Cooking, Uncle Sam? will take place at 12:30 p.m. on November 19, December 10 and 17. Alice Kamps, the curator of the exhibition, will lead the tour on Wednesday, November 19.
The David J Sencer CDC Museum is located at 1600 Clifton Road NE, Atlanta, GA 30329. Museum hours are 9 a.m. – 5 p.m. Monday through Friday and open until 7 p.m. on Thursdays. For more information about scheduling a tour or visiting the CDC Museum, check out the museum's website.
"What's Cooking, Uncle Sam? The Government's Effect on The American Diet" exhibit runs through January 2, 2015.
---
---
---