National Public Health Week: Public Health is ROI
The first week of April is National Public Health Week. This year's theme is "Public Health is ROI: Save Lives, Save Money." All of us here at CDC Foundation couldn't agree more. We know that the work we do to advance public health, with the help of our partners, has a significant return on investment. We build innovative partnerships to support CDC's 24/7 life-saving work to keep Americans safe and healthy. To this end, we believe that a well-resourced CDC is essential to fight disease outbreaks as well as the growing burden of chronic diseases and healthcare costs in America.
Learn how investments with CDC and our partners is making a difference in public health. Below are some current programs as well as projects from recent years that support the themes each day for National Public Health Week:
CDC Foundation's Public Health ROI
---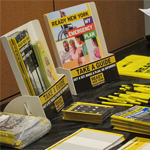 Monday, April 1: Ensuring a Safe, Healthy Home for Your Family
Take a closer look at "Do 1 Thing," a web-based preparedness program tackling one topic every month.
Tuesday, April 2: Providing a Safe Environment for Children at School
Learn more about how we are working to create healthy schools.
Wednesday, April 3: Creating a Healthy Workplace
Hear why it is important for U.S. businesses to make employee health a priority.

Thursday, April 4: Protecting You While You're on the Move
Read how CDC Foundation has raised more than $15 million for injury prevention.
Friday, April 5: Empowering a Healthy Community
See how a community in San Francisco is embodying FEMA's Whole Community approach to emergency management.

Like our page on Facebook
Help us celebrate National Public Health Week! Like our page on Facebook this week and you'll be entered to win a CDC Foundation swag bag - Contagion DVD, "Inside the Outbreaks" book, CDC T-shirt and more!
More on CDC Foundation's ROI
---
On CDC's website
---
---
---
---