Making Water Safe for Everyone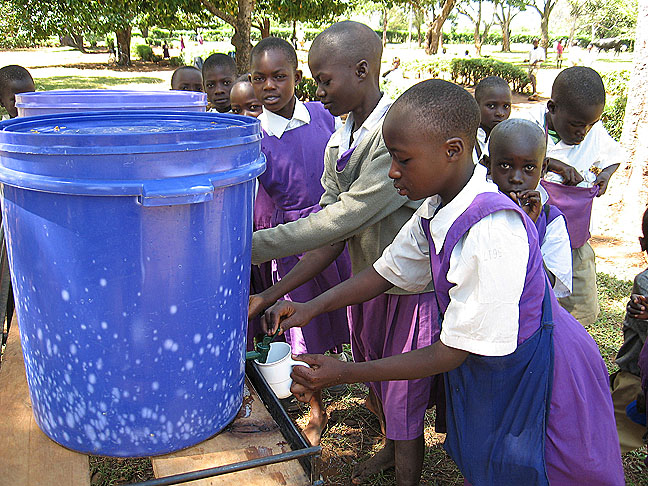 Did you know that more than 1 billion people worldwide do not have access to safe water? It is hard to believe that every year more than 2 million people around the world die of diseases they contract from contaminated water.
Thanks to a simple technology developed by retired CDC scientist and researcher Dr. Eugene Gangarosa and his colleagues, safe water is becoming a reality for even the poorest families in the most remote parts of the globe. Called the Safe Water System, it combines water treatment using inexpensive diluted bleach solution and safe water storage using narrow-mouthed containers and lids.
Dr. Gangarosa and his wife, Rose, established the Gangarosa Endowment for Safe Water at the CDC Foundation in May 2000 to provide an ongoing source of support for CDC's safe water initiatives. To date, the Gangarosa Endowment has been used to support the following initiatives:
Evaluation of a project to install handwashing and drinking water stations in 180 rural Kenyan health facilities, train health workers about water treatment and hygiene, and encourage the health workers to promote these healthy practices to their clients. This project helps address the problem of a lack of handwashing and safe drinking water facilities in literally thousands of clinics in sub Saharan Africa.
A project to bring safe water storage containers to communities in rural Madagascar.
Sponsoring masters of public health students to study a safe water system project in Jolivert, Haiti, following the devastating earthquake of 2010.
You can make a difference on World Water Day 2014 by making a gift to the CDC Foundation's Gangarosa Endowment for Safe Water. Right now, every gift that is made to the endowment up to a total of $2,000 will be matched dollar for dollar by Gene and Rose Gangarosa. Help us create a world with access to safe water for all.
Each year on March 22, World Water Day attracts international attention to the conservation and development of freshwater resources. Learn more about CDC's work and World Water Day 2014.
---
---