Ebola Outbreak: Activating Our Global Disaster Response Fund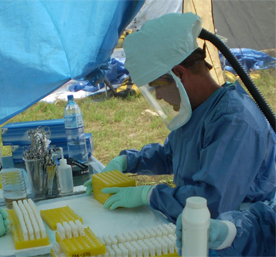 In recent weeks, we've all seen news reports about the western Africa Ebola outbreak that has claimed more than 900 of the approximately 1,700 people infected with the disease. While some other diseases can more readily spread and are more lethal, Ebola elicits deep concern and fear in the people of Africa and around the world.
The U.S. Centers for Disease Control and Prevention (CDC) is leading the response to the outbreak with 52 staff on the ground or arriving this weekend in the four affected countries—Guinea, Liberia, Nigeria and Sierra Leone.
I know that many people watching this story unfold are wondering, "What can I do to help?" We at the CDC Foundation have recently put into action a way for our organization and our donors to get involved and support the work of the brave women and men of CDC. The CDC Foundation is assisting CDC by providing critical assistance and supplies through donations to the Foundation's Global Disaster Response Fund, which enables CDC staff to respond quickly to changing circumstances and needs.
Among the immediate needs are personal protective equipment for all people in contact with patients with Ebola virus disease; communications equipment for staff in the field; equipment to establish and run emergency operations centers in each country; and support for health communication campaigns to reach affected populations. Of course, there will be unanticipated needs as well in the response to this epidemic. Funds donated to the CDC Foundation can be deployed and put to work where needed with CDC and its partners.
CDC Director Dr. Tom Frieden recently described the crisis this way: "This is the biggest and most complex Ebola outbreak in history. Far too many lives have been lost already. It will take many months, and it won't be easy, but Ebola can be stopped. We know what needs to be done."
Your donation to the CDC Foundation helps CDC in its real-time response to the current outbreak while enhancing disease surveillance and response in these countries going forward.
Join us to help stop the Ebola outbreak.. Your gift will save lives.
---
---
---