The CDC Foundation's Global Disaster Response Fund is currently activated for CDC's Zika Response.
A disaster can strike anytime, and experts from the Centers for Disease Control and Prevention (CDC) must be ready to respond to help address concerns to public health. One such response was to the Ebola outbreak in West Africa in 2014. It is vital to ensure CDC has the funding needed to kick-start its response in the immediate aftermath of a disaster. When called upon, the CDC Foundation's Global Disaster Response Fund can provide this much-needed support.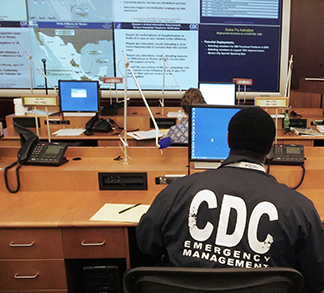 The Global Disaster Response Fund was started following the December 2004 tsunami disaster in southern Asia. At that time, CDC teams were called to the region to provide critical assistance to the survivors and to monitor for deadly disease outbreaks. CDC Foundation staff quickly met with CDC officials to find out what the Foundation could do to help.
They learned that while CDC responders are well-trained and well-equipped for disaster situations, specialized equipment—such as additional satellite phones, pocket PCs and cameras with global positioning capabilities—would help them do their work more quickly and efficiently. The CDC Foundation established a new Global Disaster Response Fund to make it possible for people to contribute to CDC's tsunami response efforts and to enable CDC to instantly purchase the equipment needed.

The fund was activated again in 2010 to help CDC respond to the devastating earthquake in Haiti. And, more recently, the fund was activated in 2014 to assist CDC with its West Africa Ebola response. In total, CDC Foundation donors provided $56 million for the Ebola response. Among the varied needs donors helped to meet were personal protective equipment for people coming into contact with patients with Ebola virus disease; communications equipment for staff in the field; the buildings and equipment to establish emergency operations centers in each country; more than 200 vehicles that were used in a variety of health-related purposes; and support for health communication campaigns to reach affected populations.
The fund is the international counterpart to the CDC Foundation's Emergency Response Fund, established after 9/11 to address public health emergencies affecting the United States.