Congratulations to Harvey Alter, 2015 Fries Prize Recipient
I am delighted to share with you that Harvey Alter, M.D., M.A.C.P. today received the 2015 Fries Prize for Improving Health. Dr. Alter received this prestigious recognition for his life-saving research and leadership in translating science into practice, which has prevented millions of new infections and cases of disease and death from Hepatitis B virus (HBV), Hepatitis C virus (HCV) and HIV infections.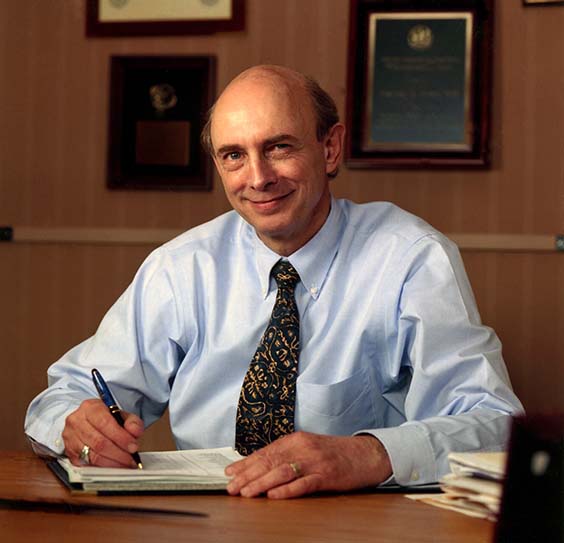 In presenting the award to Dr. Alter, Jim Fries, chair of the James F. and Sarah T. Fries Foundation, noted that Dr. Alter and his research team demonstrated that most post-transfusion hepatitis cases were not due to Hepatitis A and Hepatitis B viruses. Instead, Dr. Alter and Edward Tabor, a scientist at the U.S. Food and Drug Administration, proved through transmission studies in chimpanzees that a new form of hepatitis caused infections. This work led to the discovery of the Hepatitis C virus.
In addition, Dr. Alter spearheaded a project that uncovered the causes and reduced the risk of transfusion-associated hepatitis. This discovery helped provide the scientific foundation for establishing blood-donor screening programs.
Today's ceremony and lecture took place at the Centers for Disease Control and Prevention. The Fries Prize for Improving Health recognizes an individual who has made major accomplishments in health improvement with emphasis on recent contributions to health in the United States and with the general criteria of the greatest good for the greatest number. The Fries Prize for Improving Health award is $60,000.
At the CDC Foundation, we are pleased to partner with the James F. and Sarah T. Fries Foundation to present the Fries Prize for Improving Health and the Elizabeth Fries Health Education Award, a separate award presented annually in the spring. At the beginning of next year, the CDC Foundation will assume management of both prizes, and we look forward to continuing to partner with Jim and Sarah Fries to extend these important prizes that elevate knowledge and appreciation of public health achievements.
---
---
---