Experts Gather at CDC to Discuss Cardiovascular Disease Solutions
Esteemed Epidemiologist Receives CDC Foundation Hero Award
Cardiovascular Disease (CVD) is the world's leading cause of death—with more than 17 million deaths per year attributed to the disease. While the challenges to tackling CVD are significant, there are opportunities to address and improve CVD management as well as strengthen understanding of CVD through standardized and coordinated action, including surveillance and epidemiology of the disease.
CVD includes heart attack, stroke and heart failure, and 80 percent of the deaths from CVD occur in low- and middle-income countries. Four out of five people who die from CVD are killed by heart attack and stroke, and many of these deaths occur before the age of 70.
Yesterday, experts gathered at the Centers for Disease Control and Prevention (CDC) to discuss the prevalence, causes and potential actions to address CVD at a symposium titled "Halving Global Cardiovascular Disease Mortality Rates." Presenters and participants discussed a number of large-scale surveys and studies that had been conducted, in some cases with up to 500,000 participants. These local studies examined CVD and associated conditions in many parts of the world, such as Mexico, Russia, China, Cuba, India and other countries. The local studies have advantages by being able to drill down into root causes within a specific country and because policymakers and health officials and providers trust local data.
Among the highlights of the symposium was a discussion between CDC Director Tom Frieden, M.D., and Sir Richard Peto, professor of Medical Statistics and Epidemiology at the University of Oxford and co-director of the university's Clinical Trial Service Unit and Epidemiological Studies Unit. Peto is a world-renowned epidemiologist, known for his groundbreaking research into the health effects of tobacco as well as work on studying cancer and CVD.
In addition to examining the prevalence of CVD, presenters discussed some initial efforts to address contributing factors to the disease. In Mexico, for instance, the government has implemented efforts focused on early detection of CVD, quality care, training of healthcare professionals and guaranteed supplies of needed treatment drugs. Additionally, the country is using legislation to institute front-of-package labeling for certain foods and beverages, limiting advertisements aimed at young audiences and increasing taxes on certain beverages.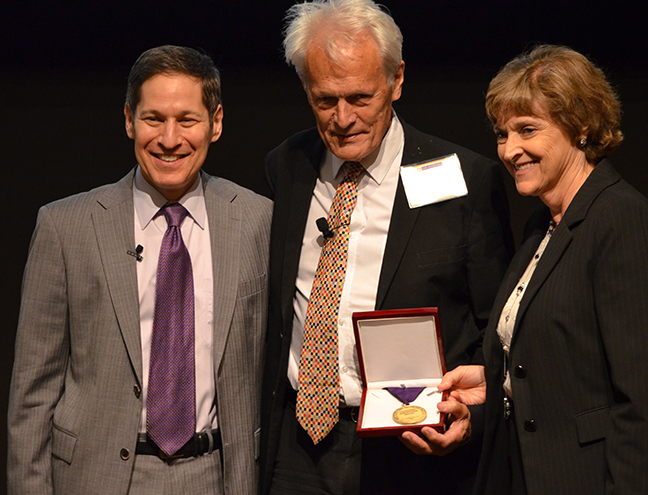 Also at the symposium, CDC Foundation President and CEO Judy Monroe, M.D., presented Peto with the CDC Foundation's Hero Award. The Hero Award recognizes an individual's significant contribution to improving the public's health. Peto received the honor for his efforts to save countless lives worldwide by uncovering the root causes of CVD and cancer and bringing data to bear on public policies. He is the ninth recipient of the award.
"This symposium, and the opportunity to partner with Oxford University, comes at a fortunate time when there is unprecedented alignment among partners who are passionate about tackling this issue," said Monroe. "We look forward to the future, when we can all see how far we've come and how much progress has been made. This is just the beginning of our journey, and we are excited to embark on it together."

---
---
---