The Closing Bell: Mobilizing Resources to Help Stop Ebola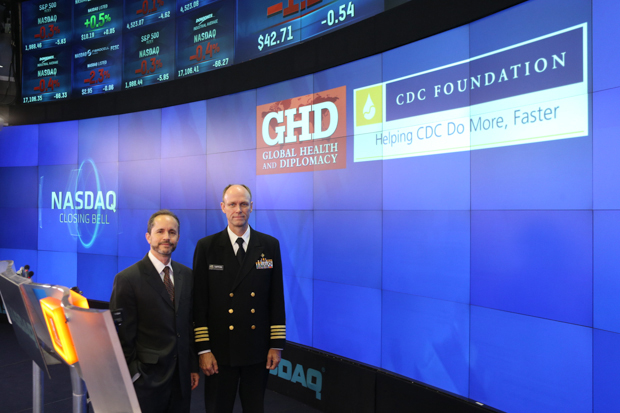 One wouldn't necessarily associate the stock market with efforts to prevent disease and save lives, but yesterday the NASDAQ, the U.S. Centers for Disease Control and Prevention (CDC), the CDC Foundation and the Center for Global Health and Diplomacy came together for just that purpose.
The event was the closing bell ceremony at the NASDAQ stock exchange. Gary Cohen, board chair of the CDC Foundation and executive vice president of BD, and Jordan Tappero M.D., M.P.H., director of CDC's Division of Global Health Protection, joined the Center for Global Health and Diplomacy at the NASDAQ in an effort to mobilize resources to help stop the Ebola epidemic in West Africa. I was honored to be able to attend this ceremony in New York City as a representative of the CDC Foundation.
Donations generated from the event will go toward the CDC Foundation's Global Disaster Response Fund, which is providing critical assistance and supplies in West Africa and helping CDC staff to respond quickly to changing circumstances and needs. Special thanks to Joanne Manrique and her staff at the Center for Global Health and Diplomacy for inviting CDC and the CDC Foundation to participate in this ceremony as well as the organization's earlier conference focused on The Future of Global Health and Architecture, which featured a panel discussion about the Ebola epidemic and response.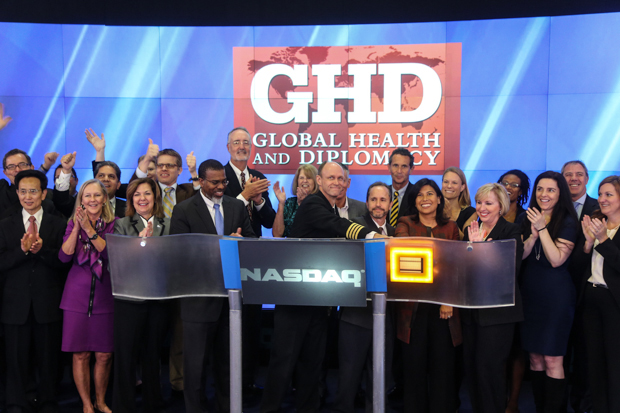 The CDC Foundation has received generous funding from a number of donors such as the Paul G. Allen Family Foundation, Robert Wood Johnson Foundation, and the Bill & Melinda Gates Foundation as well as individual and business donors. In addition, the CDC Foundation's Board of Directors has committed $1 million from the Foundation toward CDC's response. The Foundation will also absorb 100 percent of its administrative costs associated with the Global Disaster Response Fund.
Just yesterday, CDC released a new Morbidity and Mortality Weekly Report (MMWR) announcing a tool to assist experts in estimating how interventions or lack of interventions can impact the number of Ebola cases in West Africa. CDC estimated that the number of Ebola cases in Liberia and Sierra Leone could reach hundreds of thousands or even to over one million people without additional public health interventions.
The time to act is now. Help us save lives by supporting the CDC Foundation's Global Disaster Response Fund. Give Now
These photos are © Copyright 2014 , The Nasdaq OMX Group and available for re-publication by the news media only. Any commercial use is strictly prohibited without the prior written consent of The Nasdaq Stock Market, Inc.
---
---
---