From Food Safety to Flu, CDC Protects the Health of Your Business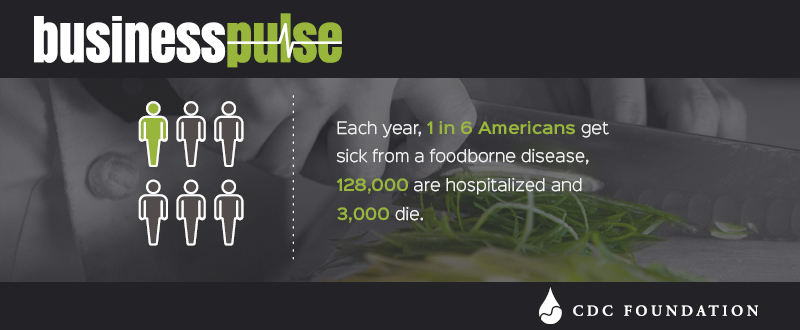 Protecting the health of Americans is critical, not only to the welfare of our neighbors and communities, but to the growth of our economy. Last week, experts at the Centers for Disease Control and Prevention (CDC) announced a multi-state outbreak of Listeria monocytogenes bacteria in frozen fruits and vegetables.
This ongoing outbreak and recall highlight the vital role CDC plays in protecting the nation's food supply, tracing outbreaks and preventing deadly infections from farm to table.
Our latest edition of Business Pulse, a quarterly digital publication of the CDC Foundation, highlights five key ways CDC protects U.S. employers and their workforces. In addition to food safety, this edition focuses on timely topics such as emergency preparedness and response, travelers' health, global health security and flu prevention.
Particularly relevant this week with the multi-state frozen food outbreak, Business Pulse features some important statistics. For example, did you know:
1. Foodborne illness is estimated to cost the United States more than $15.5 billion annually.
Reducing foodborne illness rates by just 10 percent would keep 5 million Americans from getting sick each year. Promoting a culture of food safety is vital to employees' health—as well as to America's businesses, communities and the U.S. economy. Employers can increase awareness about foodborne outbreaks and help employees learn how to protect themselves and their families.
2. The flu costs Americans more than $87 billion annually and results in 17 million lost workdays each flu season.
While an annual flu vaccine is the best way to prevent influenza, three out of every five people in the United States report not being vaccinated. The impact of flu on workplace health and productivity is substantial. During the 2014–15 flu season there were an estimated 40 million illnesses, 19 million medical visits and 970,000 hospitalizations related to influenza.
3. For every 100,000 travelers visiting a developing country for one month, 50,000 will experience a health problem while abroad.
With millions of Americans traveling internationally for work, the direct and indirect costs of business travel-related illnesses and injuries can be significant. Beyond healthcare expenses, there may be costs for evacuation, trip cancellation and rebooking fees, as well as lost productivity. Businesses can help employees stay informed about travel-related health risks, equip medical staff with information and training, promote pre-travel health care and educate employees about the benefits of travel health insurance.
4. Only two in ten employees feel prepared for a catastrophic event.
Health emergencies can severely disrupt business continuity and reduce productivity. For example, when fear of Ebola swept through America, airline stocks declined and some airline employees refused to report for work. Employers can take action by developing and exercising emergency preparedness plans in the workplace, encouraging employees to be prepared at home and signing up for CDC's Health Alert Network.
5. About two-thirds of the world's countries remain unprepared to prevent, detect and respond to infectious disease threats.
In today's highly mobile and interconnected world, an outbreak anywhere is a threat everywhere. The Global Health Security Agenda is the frontline defense in ensuring the world's countries are on the same page. Employers can learn how the Global Health Security Agenda informs their operations and explore how CDC and its partners are working in more than 30 countries to stop outbreaks and improve the public's health.
From food safety to emergency preparedness, CDC works 24/7 to protect America from health, safety and security threats. Organizations that understand the link between business vitality and the health of their employees can better compete and prosper, both here in the United States and in countries around the world.
---
---
---