Cancer Survivor Employs Simple Steps to Fight off Infection During Chemo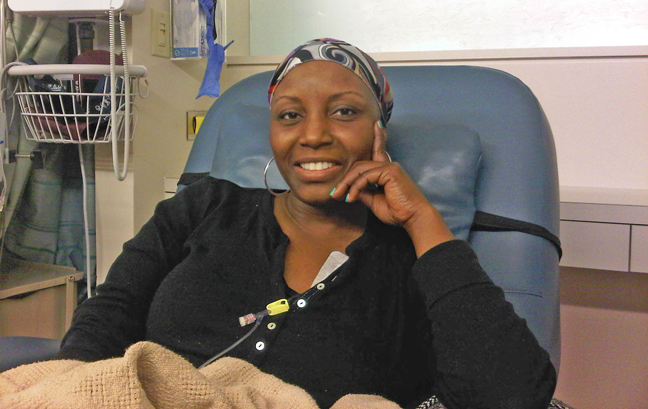 To do:
Biopsy
MRI
Port-a-Cath
Chemotherapy
Genetic Testing
Lumpectomy
Radiation
The above list is not exactly the type of to-do list I ever thought I'd be faced with. As you can imagine, this list of tests, screenings, procedures and treatments was a bit overwhelming as I was diagnosed last October with a Stage II breast cancer. Not only did I learn I had triple negative breast cancer, but I had to accept that my treatment plan would definitely include chemotherapy—8 rounds to be exact—followed by surgery and radiation. My life and my family's life was about to change during this time. So we talked and prayed, and then we prepared for this journey.
As a "CDC-er," my work as a health communications specialist often involves taking what our team of scientists knows and putting it into easy-to-understand language for the general public. So after I learned that I had cancer and was trying to prepare myself and my family for what was to come, I read about one of chemotherapy's most serious side effects that I had never heard of before—neutropenia. Almost instantly, my CDC background kicked in. First of all, I thought, "how do you even pronounce this word (new-tro-pee-nee-a, by the way)," and secondly, "how can I explain the seriousness of this to my family?"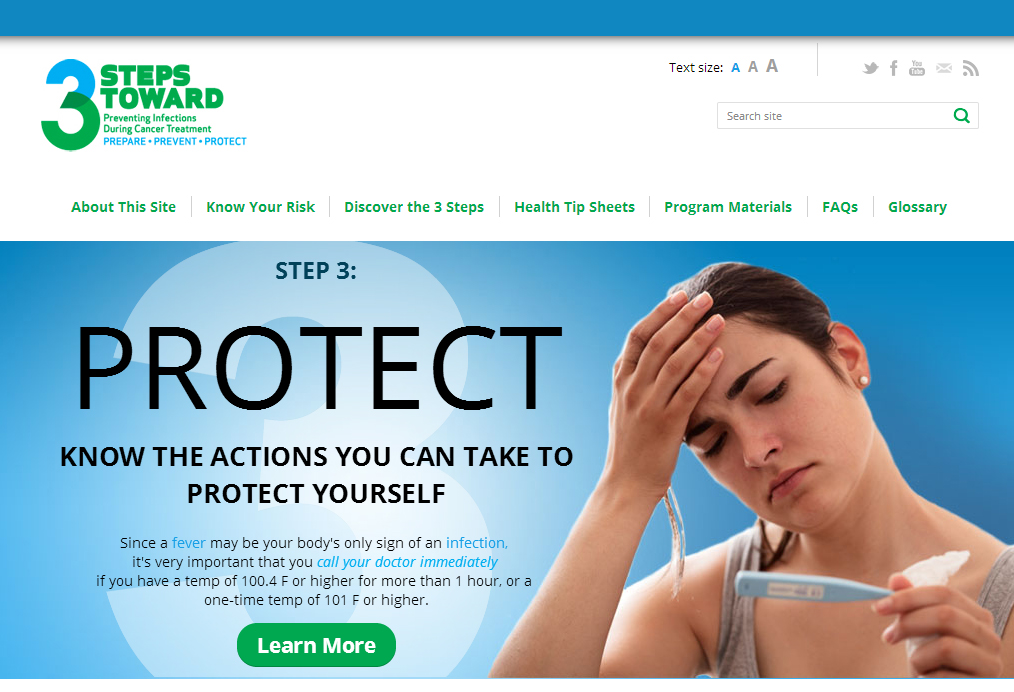 Once I did a little digging, I found an excellent resource (right in my back yard!) that explained this condition to my family and me. PreventCancerInfections.org is a website developed by CDC that provides practical steps that patients and caregivers can take to prevent infections. This website also helps explain what neutropenia is (a low white blood cell count), how and why it makes you more likely to get an infection, and what you and your family can do to help protect yourself.
Ironically, my CDC job involves communicating about basic principles of maintaining good health, such as frequent hand washing and safe food preparation. Fortunately, these practices came naturally for me, but I kicked them into high gear while I was receiving chemotherapy.
In addition to getting proper nutrition, enough exercise, and plenty of rest to help my body recover after each round of chemo, I also had to be extremely careful about reducing my risk for infections (at home and work), particularly when my white blood cell counts were at their lowest.
Some practices my family and I followed at home during this time included:
Frequent cleaning and disinfecting around the house, especially in the kitchen and bathrooms.
Cooking foods to proper temperature and refrigerating leftovers promptly.
Washing fruits and vegetables before eating or cooking them.
Maintaining good personal and oral hygiene. This was important for me to help keep urinary tract infections, gum disease, and mouth sores at bay.
Frequent hand washing with warm water and soap and using hand sanitizer. We were diligent in practicing good hand hygiene especially after coming home from work and school, using the bathroom and handling garbage.
Fortunately, I never experienced a fever or had any severe illnesses while on chemo. Despite the unpleasant side effects of chemo, I am thankful to have had more good days than bad days.
For me, life after breast cancer treatment means taking just one day at a time and continuing to be mindful of the simple things I can do to keep my family and me as healthy as possible. In honor of National Cancer Survivors Day, I'd like to recognize my strong support system of loving and devoted family, dear friends and caring co-workers who helped me stay strong and positive throughout this process. I also would like to send my words of encouragement to all people living with a history of cancer—including America's nearly 14 million cancer survivors. So whether you're a cancer survivor, family member, friend or medical professional, this time provides an opportunity for all of us to celebrate another day and another milestone!
About the Preventing Infections in Cancer Patients Program
The Preventing Infections in Cancer Patients program was created by the U.S. Centers for Disease Control and Prevention (CDC) and the CDC Foundation to help reduce infections in cancer patients. The program uses practical guidance and resources for patients, caregivers and healthcare providers about steps they can take to prevent infections. In conjunction with International Infection Prevention Week, the CDC Foundation is launching an enhanced website for PreventCancerInfections.org, an evidence-based, interactive resource targeted to assessing a cancer patient's risk for developing a low white blood cell count and subsequent infections from chemotherapy. Learn more
This is also posted on CDC's Safe Healthcare blog.
---
---
---