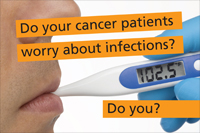 Through a CDC Foundation collaboration with Amgen, CDC is leading a comprehensive program focused on providing information, action steps and tools for patients, their families, and their healthcare providers to reduce the risk of developing potentially life-threatening infections during chemotherapy treatment.
One of the most common and potentially life-threatening side effects of chemotherapy is neutropenia and the subsequent development of infections. Infections in cancer patients undergoing chemotherapy may lead to hospitalization, disruptions in chemotherapy schedules, and in some cases, can be life threatening. Each year, an estimated 60,000 patients are hospitalized for chemotherapy-induced neutropenia, and a patient dies every two hours from this complication. The sources of these infections can be through patient interactions with family and social networks or from healthcare settings.
Through this collaboration, CDC developed a comprehensive campaign focused on preventing infections in cancer patients by targeting patients, their families, and their healthcare providers. For patients, CDC developed an interactive website, 3 Steps Toward Preventing Infections During Cancer Treatment. 3 Steps is an interactive online education program that provides individually tailored information to help patients recognize the signs and symptoms of infection and implement measures to prevent and control those infections.
For providers, CDC experts developed a Basic Infection Control and Prevention Plan for Outpatient Oncology Settings that outlines infection control policies and procedures – injection safety, hand hygiene, environmental disinfection, etc. – that can be tailored to any oncology clinic.
CDC also produced a collection of materials, like posters for oncology clinics, patient brochures and fact sheets, to support campaign messages. The materials are available online at www.cdc.gov/cancer/preventinfections.
Dr. Lyndah Dreiling is the former executive director of oncology for Amgen, a biotechnology company that develops medicines to help fight cancer, kidney disease, rheumatoid arthritis and other serious illnesses. "We were thrilled that the CDC Foundation asked us to assist CDC on a campaign to reduce infections in cancer patients," says Dreiling. "It's a perfect opportunity for two organizations with similar expertise to join forces and leverage each other's strengths for the benefit of patients."
Learn More
Healthcare-associated Infections (HAI)
on the CDC website
On Our Blog
Preventing Infections in Cancer Patients Program Hits Home
10.21.13 | Lisa Splitlog
New Tool to Prevent Infections During Chemotherapy
08.28.12 | Lisa Richardson
When Simple Messages Can Make a Real Difference
04.09.12 | Lyndah Dreiling
Preventing Infections in Cancer Patients
03.13.12 | Alice Guh
In the News
CDC Foundation Enhances Access to Information for Cancer Patients, Caregivers and Health Care Providers Seeking to Control Infections
10.21.13
CDC Introduces Important New Educational Resources to Prevent Infections in Cancer Patients
10.25.12
CDC Foundation Partners with Amgen, CDC to Reduce Infections Among Cancer Patients
05.27.09