Disease Outbreaks Create Real Business Challenges
In a virtual sense, our world is rapidly shrinking, a phenomenon brought about by the globalization of trade and travel. Through globalization both people and goods can reach nearly anywhere in the world within 24 hours or less. While this logistical triumph has improved lives of people everywhere, it has also created challenges. For instance, we know from experience that pathogens with the ability to cause severe harm to individuals are just a plane ride away.
In the past decade, diseases such as SARS, H7N9, measles and malaria have rapidly moved from one part of the globe to another. More recently, headlines tell of an Ebola outbreak in Guinea and the mosquito-borne illness chikungunya, which has spread through the Caribbean. Beyond the devastating effects disease outbreaks bring to bear on individuals and their families, businesses also confront a multitude of costly health security challenges—think about the impact outbreaks can have on business production and travel, just to name a few.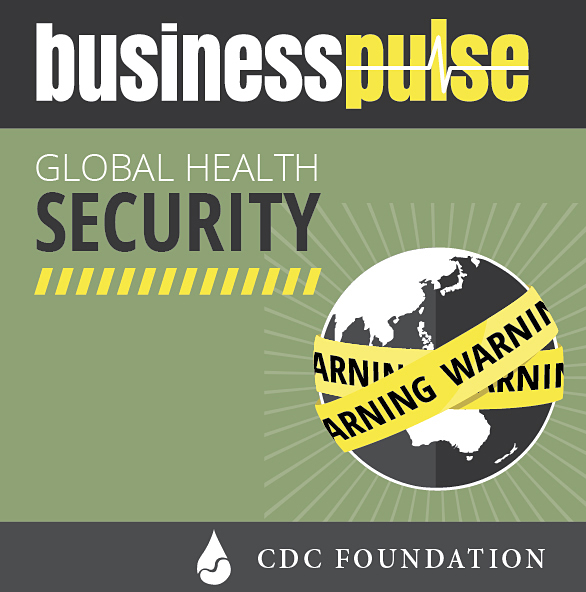 To aid business preparedness and response efforts, a new CDC Foundation Business Pulse issue released today focuses on steps that businesses can take and resources they can utilize to navigate through the challenges caused by disease outbreaks. Business Pulse is informed by the work of the U.S. Centers for Disease Control and Prevention (CDC), which is our nation's public health protection agency.
Business Pulse: Global Health Security highlights what CDC does to help protect businesses from global health threats and describes how business leaders can take actions to protect their workforces and operations in the United States and abroad. Specifically, this issue of Business Pulse offers useful perspective through an interactive infographic, links to valuable CDC resources, and a Q&A with Dr. Ken Grossman, associate corporate medical director at General Electric, which has staff in more than 160 countries.
We encourage businesses to take advantage of this CDC-based information, developed by the CDC Foundation, to bolster their preparedness efforts. And, if your business has robust plans that have been effectively put into action in a health-related crisis, I invite you to join the conversation by sharing your experiences through comments on this blog.
---
---