Business Pulse


EXPLORE HOW CDC PROTECTS BUSINESS, FROM
CHRONIC HEALTH THREATS TO MAJOR EMERGENCIES
Welcome to Business Pulse, a feature that offers businesses useful resources from the Centers for Disease Control and Prevention (CDC). Explore benefits associated with CDC's work to protect Americans—including businesses and their workforces—from chronic threats that impact health and productivity to major health emergencies. Produced by the CDC Foundation, Business Pulse focuses on a different topic each quarter.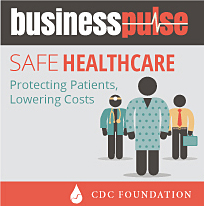 First Quarter 2014 Business Pulse

Safe Healthcare

The growing problems of healthcare-associated infections and antibiotic resistance cause tens of thousands of deaths and add billions to our nation's healthcare costs, much of which is preventable. Learn how CDC is both working with the healthcare industry to solve these problems and educating the public about how to prevent them.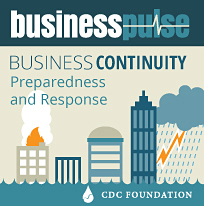 Third Quarter 2013 Business Pulse

Business Continuity

Resources about CDC's work to help protect business from everyday health threats and major health emergencies and tips to preserve continuity of operations and protect business before a crisis strikes.