Bed Nets Save Lives in Rural Kenya
This story was gathered from David Snyder's visit to Kenya. David reports on CDC programs in action for the CDC Foundation.
Asman Sawo and his wife Miriam sit in the small front room of their home, bathed in mid-morning light from the open front door. While the breeze eases the gathering heat, Sawo knows open doors in the Nyanza Province of Kenya can literally be killers. In Africa, where a child dies from malaria every 45 seconds, a bed net can mean the difference between life and death.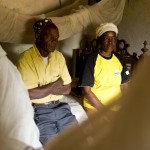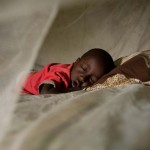 "We used to get malaria all the time before we received the CDC nets," Sawo said. "Someone in the family had it every week."
Burdened with one of the highest malaria infection rates in Kenya, most families in Kenya's Nyanza Province live with mosquitoes, and the malaria they spread, as a fact of life. In fact, locals often treat the deadly parasite as little more than a nuisance. But malaria is anything but a simple inconvenience. Worldwide, more than 1 million people die every year from malaria, 90 percent of them in sub-Saharan Africa.
So when CDC staff came to Sawo's village of Usoma to distribute bed nets and mosquito curtains as part of a malaria study, he was eager to participate. Through the study, more than 1,700 people in Usoma now have bed nets and curtains over the open eaves beneath their roofs. The government of Kenya is also distributing bed nets in this mosquito-dense area on the shores of Lake Victoria. With six grown children and seven grandchildren, Sawo says the impact of the bed nets and curtains has been dramatic.
"Since CDC has introduced the netting, we are having no malaria attacks," he said. "We are healthy."
In addition to health risks, malaria can also cause serious financial hardship. Time lost from work due to illness impacts not only the affected individual, but entire families and communities.
Though CDC teams and government officials continue to distribute nets, Sawo worries about other families whose nets have become torn with age. As a village leader, he feels responsible for the health of his fellow villagers.
"If this program could spread to the entire village, it would help," Sawo said. "We have nets, but if someone dies from malaria, the burden belongs to the entire village."
Bed nets have been shown to greatly reduce malaria morbidity and mortality, especially in children under 2. A study of bed net usage in western Kenya reports a 25 percent reduction in death among children. Numerous individuals, schools and youth groups have helped CDC purchase $5 bed nets through the CDC Foundation's Bed Nets for Children Program.
---
---
---