Compassion Fund for CDC's Global Health Workers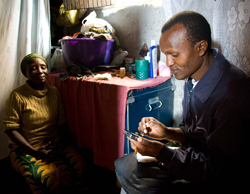 CDC employs more than 1,500 staff in 50+ countries around the world. This fund provides financial relief to locally employed staff who are impacted by adverse conditions in the field.
These health workers are essential to CDC's work overseas, ensuring the sustainability and diversity of CDC's global programs. As these staff are often the primary breadwinners for their families, assistance from the Compassion Fund can be extremely helpful in an emergency situation.
On Our Blog: CDC Foundation's Compassion Fund for Global Health Workers
Funding Partners:
Multiple individuals and organizations
Program Partners:
CDC's Center for Global Health