Atlanta International Health Fellowship Endowment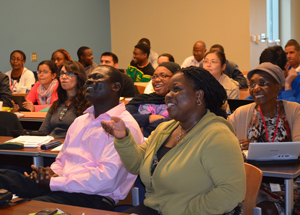 In 1984, Drs. Bob Chen and Katy Irwin learned that an international member of their Epidemic Intelligence Service class was going to have to quit the two-year program because her funding had fallen through at the last moment. Because the Centers for Disease Control and Prevention (CDC) had no way of providing financial assistance to international participants in its varied public health training courses, the two young physicians decided to remedy this situation by establishing the Atlanta International Health Fellowship (AIHF) program.
With help from other CDC employees and retirees, they set about raising funds and then formed a partnership with Emory University, which provided free tuition to one individual each year to attend Emory's International Course in Applied Epidemiology. They also formed a partnership with Villa International, which provided free housing to the AIHF recipient.
In 1997, a grant from The Tull Charitable Foundation was added to existing funds, and the Atlanta International Health Fellowship became the first endowed fund at the CDC Foundation. Since the first fellowships were awarded in 1991, 25 individuals from over 22 countries have received stipends to cover costs of travel, tuition and lodging as they enrich their public health expertise at CDC.
Funding Partners:
Multiple individuals and organizations
Previous Funding Partners:
The Tull Charitable Foundation
Program Partners:
CDC's Epidemic Intelligence Service
Emory University
Villa International