Watching Hands: Artists Respond to Keeping Well
September 24, 2011 - January 13, 2012
Watching Hands: Artists Respond to Keeping Well showcases the work of six artists who interpret the act of handwashing in innovative and unexpected ways. The artists stretch the boundaries of current public health campaigns through painting, drawing, graphic design, sculpture, installation and new media. Making the connection between handwashing and keeping well, the work – all new for this exhibition – ranges from the humorous to the spiritual. Watching Hands is organized by the David J. Sencer CDC Museum and is made possible by a generous grant from Georgia-Pacific Professional to the CDC Foundation.
About the Artists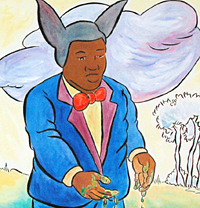 John Bankston, San Francisco, CA
The San Francisco-based artist uses drawing and painting to create imaginary narratives that link subjective memories of childhood to a broader American popular culture.
Didi Dunphy, Athens, GA
Inspired by the intersection of art, performance and design, the Athens, Ga.-based artist engages audiences through fabricating objects and installations to facilitate playful, interactive experiences.
Joe Peragine, Atlanta, GA
The Atlanta-based artist works in a wide range of media, including painting, sculpture, animation and filmmaking. In addition to the Hartsfield Jackson International Airport, where his award-winning public art installation of ants hangs over the baggage claim areas, Peragine's work has been featured through solo exhibitions around the country.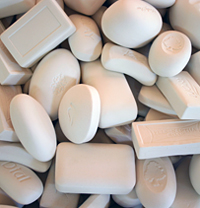 Katherine L. Ross, Chicago, IL
Currently serving as chair of the Ceramics Department at the School of the Art Institute in Chicago, Ross' expertise is in porcelain production for large installations that addresses biological technology, disease and prophylaxis, genetic engineering, hybridization and cloning.
Laura Splan, Brooklyn, NY
A New York-based mixed-media artist, Splan uses microbiological, anatomical and medical images to emphasize the connections between art and science. Splan recently taught two courses addressing the links between art and biology at Stanford University in California.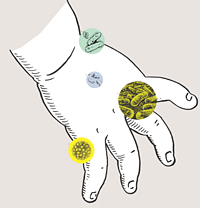 James Victore, Brooklyn, NY
Considered a cultural and political activist, Victore is one of the leading graphic designers in the United States. Utilizing deceptively simple and witty designs, Victore works in the realms of business, culture, education, editorial and politics, with clients ranging from TIME Magazine to Aveda to Moët & Chandon.
Visiting the Museum
David J. Sencer CDC Museum
Centers for Disease Control and Prevention
1600 Clifton Road, NE Atlanta, GA 30333
www.cdc.gov/museum
Hours: M, T, W, F: 9 AM – 5 PM, Th: 9 AM – 7 PM
Closed Saturdays, Sundays and federal holidays.
Admission is free. Parking is free.
Driver's license or passport required for entry. Vehicle inspection required.
Invite your friends to visit the Museum: Send an e-card.
---