Super Tracers Assemble in Pennsylvania
They've become known in Pennsylvania public-health circles as "The Super Tracers." This tight-knit team of 10 COVID-19 Corps members didn't know each other before they became part of the CDC Foundation's initiative to assist local, state and other health departments staff up to fight the pandemic. But as the first paid contact tracers hired for the COVID-19 response in the state, they encountered process issues that quickly brought them together to develop solutions they could implement and pass along to an appreciative Pennsylvania Department of Health.
Team member Holly Charest has a theory about their group's success. "Our willingness to share information with each other is what makes us cohesive and makes us stand out. We just connect, we just all connect, and I think it's wonderful."
Their newly-formed clan represents a wide range of ages, backgrounds and experience. A diversity consultant with a master's degree in religion, Crystal Mann Boyd agrees, "We're just one big family."
Coming Together as a Team
Silicia Lomax and Zainab Saccoh both recently graduated with Master of Public Health degrees. Marcy Garb, Kiemesha Corpening, Martina Porter and Rosemary Feild all have enjoyed long careers in the health field. Armaan "Al" Saccoh is a social worker, and Charest and Carly Lapp are dedicated special-education aides. Lindsey Mauldin, who oversees Pennsylvania's contact tracing program said, "I love the diversity of the team. Their varied skill sets and backgrounds have made them a valuable resource."
The Corps members completed required contact-tracing courses from Johns Hopkins and CDC before beginning work, but still found themselves facing some challenges. As Lomax said, "We went through this whole situation of having these generic trainings, and then we're asked to put everything into practice with these new systems." Garb continued, "We asked for a space on the website where we could share job aids and documents. And then everybody began uploading things." "We call it a resource library," Mann Boyd added.
That space includes FAQ sheets, step-by-step guides and solutions on the most effective ways to communicate with contacts, and among themselves. They also have twice-a-week streaming calls. "And we have text groups so that people can communicate with each other," said Lomax.
"Everybody came in with the exact right attitude which is, this is going to be a bumpy road. We're going to have to navigate the system," offered Regional Coordinator Bob Doyle, who takes no small amount of papa-like pride in his group. "No one has ever complained. Everyone's like, we have a great team, we're working through this together and we're figuring it out together. And that's been what's been so amazing."
The CDC Foundation contact tracing staff has served as the pioneer team for our expanded contact tracing infrastructure ... They continue to serve as leaders among our team of over 1,300 tracers.
"We leaned on each other based on necessity," explained Mann Boyd. "One example is the script that we were given was very formal, and it wasn't taking into account a lot of what humans are going through in a moment when a person calls you to tell you you've been exposed to a brand new deadly virus." The group worked through some revisions with the help of Garb, a retired researcher who spent 30 years at Merck Laboratories, and began to better connect with those on their call lists.
The Super Tracers Make a Super Impression
Saccoh also reached out to the group when he was having trouble getting his contacts to answer the phone. "I think it was Marcy or Rosemary, who said, well send a text first and then call. The response really increased." They also shared their solutions with the Pennsylvania Health Department, who have been thrilled with the results. Mann Boyd has even been recruited to a team developing new software solutions to increase the contact tracers' effectiveness.
Their COVID-19 Corps team also includes Public Health Administrator Jennifer Grogan, who's so impressed by her colleagues' work that she's asked them to be mentors to the dozens of new contact tracers now coming on board in Pennsylvania.
And their contribution has been noticed by the top health official in the state. "As Pennsylvania has expanded our contact tracing program, we've looked to our partners, like the CDC Foundation, for best practices and resources as we navigate uncharted waters. The CDC Foundation contact tracing staff has served as the pioneer team for our expanded contact tracing infrastructure and has provided invaluable feedback and insight to our new and improved processes. They continue to serve as leaders among our team of over 1,300 tracers," said Secretary of Health Dr. Rachel Levine.
Feild summed up her experience this way: "The team that we have is so cohesive and supportive of one another. I learn something new every day from everybody. I'm just really happy to be here."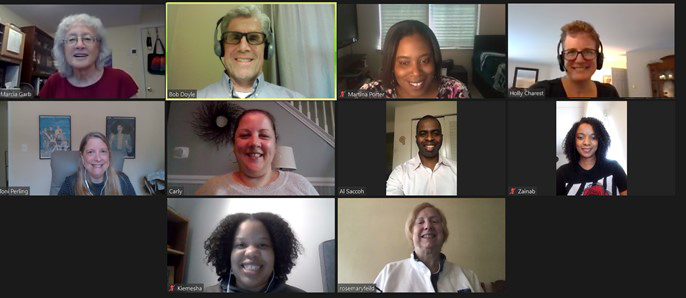 ---
This article was supported by Cooperative Agreement number NU38OT000288, funded by the Centers for Disease Control and Prevention (CDC). Its contents are solely the responsibility of the authors and do not necessarily represent the official views of CDC or the Department of Health and Human Services. The CDC Foundation's support from CDC included full project funding of $45,939,536.86.