The Faces Behind the Opioid Response
An academic detailer. A laboratory scientist. A geographic information system mapping specialist. A program evaluator. A data linkage epidemiologist.
These are some of the faces of those who are working together to tackle the opioid epidemic. In the last few months, the Rhode Island Department of Health (RIDOH) has seen a surge in staff working to tackle this public health crisis challenging states across the country.
Carly Kuehl, a laboratory scientist
Dr. Collette Onyejekwe, an academic detailer
Sarah Karim, a GIS mapping specialist
Ekoué Folly, MPH, a data linkage epidemiologist
As a part of the response, the CDC Foundation, funded by the Centers for Disease Control and Prevention (CDC), is working with state health departments in 12 states with the most need to carry out opioid prevention and response activities and programs. "We are working to increase capacity by providing extra staffing and resources to state and local health departments and community-based organizations," said Turquoise Sidibe, MPH, senior program officer for the CDC Foundation.
From 1999 to 2017, more than 702,000 people died from a drug overdose in the United States, according to CDC. Of those deaths, almost 68 percent involved a prescription or illicit opioid.
"Drug overdoses represent a public health crisis that is as urgent as any we have ever confronted in Rhode Island," said Jennifer Koziol, drug overdose prevention program administrator, RIDOH.
The extensive network of staff hired by the CDC Foundation to work in Rhode Island and throughout the country is making an impact. These health professionals are conducting surveillance activities, developing prescription drug monitoring programs, drafting clinical guidelines for pain management, educating people about the risks associated with opioids and creating rapid response teams. Meet a few of the team members who are tackling the opioid epidemic:
---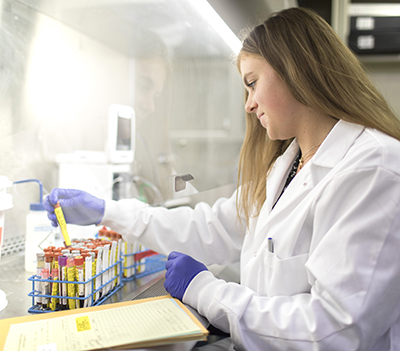 Carly Kuehl, a laboratory scientist
After graduating from college with a major in biochemistry, Carly moved from Colorado to Rhode Island to work on the opioid response. One of her responsibilities is helping screen and confirm post-mortem tests. This includes test preparation and analysis. "Currently, there are 18 different drug classes that we screen for in our lab," said Carly. "Based on the data from the medical examiner, between 31 to 40 percent of the cases that we see are positive with opioids."
Carly's work with the Health Forensic Toxicology Laboratory is helping to reduce the medical examiner's case backlog and improve reporting time for these cases. "I like what I do, and I love the community that's here," said Carly. "I am a support system for the people who are working here—whether it's a technical task or lab assignment."
---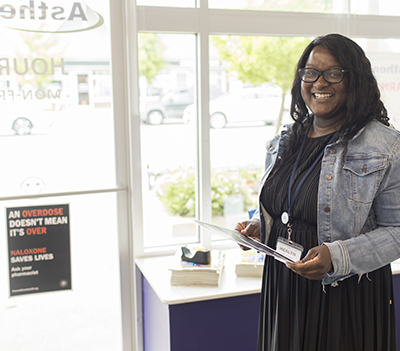 Dr. Collette Onyejekwe, an academic detailer
Collette's role as an academic detailer is to provide resources and information to pharmacists and surgeons on best practices for postoperative acute pain management. "Part of my role is providing resources to doctors and pharmacists," said Collette. She shares information with them and also gets feedback on their challenges. "One of our goals is to reduce exposure to opioids," she said. "We encourage doctors to look at other options, especially for those who are higher risk."
Collette has also seen first-hand the impact of naloxone, which is a medication that can rapidly reverse an overdose. Before her work with RIDOH, Collette was a community pharmacist. "I witnessed an overdose in our parking lot," she said. This experience led her to want to do more to tackle the epidemic. "I was able to dispense naloxone while the individual's friend called 911," said Collette. "The individual was able to be revived after multiple doses of naloxone."
---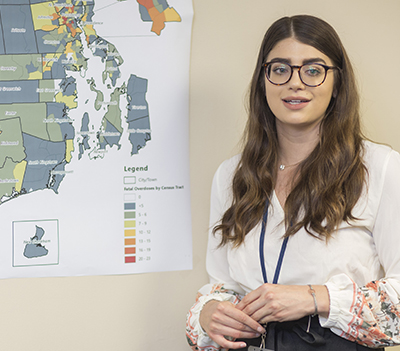 Sarah Karim, a GIS mapping specialist
As a GIS mapping specialist, Sarah is using mapping technology to inform policy, research and programming related to the opioid response. Before starting at the CDC Foundation, Sarah worked at FEMA where she learned GIS mapping during emergency response efforts, including the California wildfires and Hurricanes Florence and Michael.
"The data is helpful for cities to identify the hot pockets, so that they can then create an intervention plan for the response," said Sarah. One of her maps was used for a presentation for Governor Gina Raimondo's Overdose Prevention and Intervention Task Force. The mapping helps to show where incidents occur. In one example, the data shows which areas have the most emergency medical services (EMS) runs related to opioid misuse.
"Using mapping is important in this work because it helps us visualize the data that we may otherwise not be able to make sense of," said Sarah. "It is an easy way for people who aren't familiar with using data to better understand its use and informative benefits."
---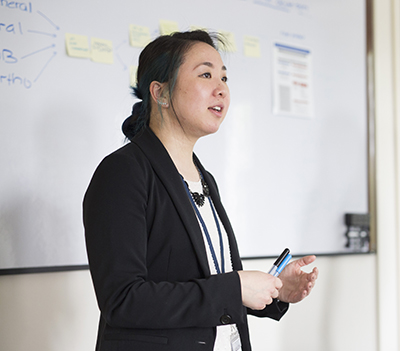 Christina Hom, MPH, a program evaluator
Christina is involved in helping to create structure to the academic detailing process. She is working in partnership with the academic detailer to develop processes and educational materials that are being shared with pharmacists and surgeons. "It's been interesting to design something from scratch that has never been done before," said Christina.
Christina is also working to establish evaluation approaches and build capacity for the team. "This work is important because we have an opportunity to improve programs, increase understanding and inform decisions in order to identify strategies that work in addressing the opioid overdose crisis," she said.
---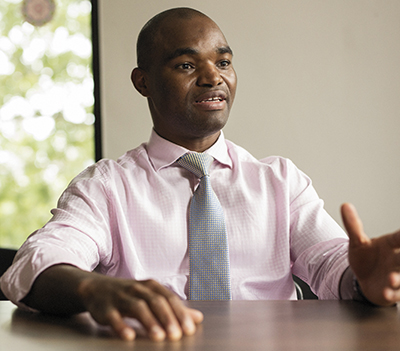 Ekoué Folly, MPH, a data linkage epidemiologist
Ekoué was a research specialist before he started working on the opioid response. Ekoué's role is integrating existing datasets into one system. For example, he pulls together data from sources such as Emergency Medical Services and the medical examiner. "This type of data linkage has not yet been done in Rhode Island," said Ekoué. "My work will help to synthesize the data and make it available for all departments."
The dataset will be used for public health analyses to identify and target specific areas of greatest need in the community.
---
"The presence of CDC Foundation field staff at the state has truly helped us intensify our response to Rhode Island's epidemic," said Lauren Conkey of RIDOH. With this support, capacity across five programs and divisions at RIDOH has been greatly increased. "Not only are the field staff completing projects and initiatives that we otherwise would not have had the capacity to take on, but they are also bringing valuable expertise and insight to the state as we work together to stop the overdose crisis."
Christina, Carly, Sarah, Ekoué, Collette, and many other staff members like them are working together throughout the country to tackle the opioid epidemic.
Learn more about the work in Rhode Island.
CDC Foundation staff members, Anniece Weaver, MPH, emergency response specialist, and Melissa Bennett, MPH, program officer, meet with team members in Rhode Island.
Dr. Collette Onyejekwe meets with a pharmacist to share information about the Overdose Doesn't Mean It's Over Campaign.
Senior Program Officer Turquoise Sidibe, MPH, is leading the opioid response work for the CDC Foundation.
---
To rapidly build capacity for states to implement opioid prevention and response activities and programs, CDC employed novel and new Crisis Cooperative Agreements to fund jurisdictions and partner organizations to provide expert technical assistance and other support to entities engaged in a public health or healthcare crisis. CDC's National Center for Injury Prevention and Control funded 9 organizations, including the CDC Foundation, under CDC's Center for State, Tribal, Local, and Territorial Support Technical Assistance for Response to Public Health or Healthcare Crises external cooperative agreement (CDC-RFA-OT18-1804) to provide technical assistance and support to 48 states and the District of Columbia.
Photos: © Josh Behan / CDC Foundation