Leaders Honored by CDC for Efforts to Combat Viral Hepatitis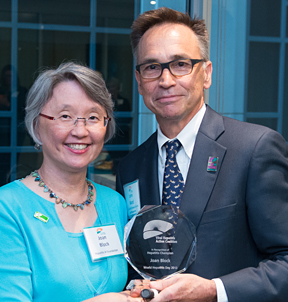 WASHINGTON — In advance of World Hepatitis Day on July 28, champions for viral hepatitis screening, care and treatment were honored by the Centers for Disease Control and Prevention (CDC), the CDC Foundation and the Viral Hepatitis Action Coalition (VHAC) at a reception in Washington, DC.
Often called a "silent epidemic" because it affects the health of millions of people without their knowledge, viral hepatitis is an under-recognized health problem in this country and throughout the world. The following individuals were honored on July 25 at the event for their efforts to raise awareness about the disease and the benefits of early diagnosis and treatment:
The Honorable Kenneth Zebrowski (New City, NY), a New York state assemblyman who authored recent legislation which mandated one-time hepatitis C testing for all patients in New York born between 1945–1965, consistent with the CDC's testing guidelines.
The Honorable Kemp Hannon (Garden City, NY), a New York state senator who sponsored a companion bill to Assemblyman Zebrowski's legislation.
Hadiyah Charles (New York, NY), a representative from the Harm Reduction Coalition and a grassroots champion who helped to advance New York's hepatitis C testing legislation.
Beth Finkel, (Albany, NY), president of the New York Chapter of AARP, for the work of the chapter in educating lawmakers and the general public about the importance of a one-time hepatitis C test for all patients born between 1945–1965.
Joan Block (Doylestown, PA), executive director of the Hepatitis B Foundation, for her work in calling attention to student dismissals from or denials of admission to medical/dental schools solely because they suffered from chronic hepatitis B infections.
Dr. Anna Lok (Ann Arbor, MI), a professor of medicine at the University of Michigan and a viral hepatitis researcher who partnered with Joan Block in raising awareness about hepatitis B discrimination in medical training programs.
Dr. Bruce Struminger (Red Mesa, AZ), the former country director for CDC programs in Vietnam, who demonstrated that the President's Emergency Plan For AIDS Relief (PEPFAR) service delivery platform could also be used, at very low cost, to provide viral hepatitis prevention, identification, and care services in low income nations.
There are approximately 5.3 million Americans infected with chronic hepatitis. Many of them are unaware that they are infected. The VHAC is a public-private partnership among CDC, CDC Foundation and private-sector partners focused on eliminating viral hepatitis through education, prevention, testing and linkage to care.
"CDC actively seeks to participate in public-private partnerships to accomplish viral hepatitis prevention and control activities both domestically and globally, said Dr. John Ward, director of CDC's Division of Viral Hepatitis. "In this era of effective treatments for hepatitis B and emerging safe all-oral treatments for curing hepatitis C, the next step is ensuring access to these effective therapies for all people suffering with chronic hepatitis. The VHAC of the CDC Foundation has been a great partner in expanding the capacity of CDC."
"The CDC Foundation is pleased to work with the organizations involved in the VHAC partnership that is supporting and helping to accelerate CDC's vital work in advancing the screening, treatment and prevention of viral hepatitis," said Charles Stokes, president and CEO of the CDC Foundation.
In addition to this reception, the VHAC and its members marked World Hepatitis Day through the promotion of CDC resources, including a web-based risk assessment tool, the Know More Hepatitis public education campaign (http://www.cdc.gov/knowmorehepatitis/), and on-line viral hepatitis training for healthcare providers.
About the CDC Foundation
Established by Congress, the CDC Foundation helps the Centers for Disease Control and Prevention (CDC) do more, faster, by forging public-private partnerships to support CDC's work 24/7 to save lives and protect people from health and safety threats. The CDC Foundation manages approximately 200 CDC-led programs in the United States and in countries around the world. For more information, please visit www.cdcfoundation.org.
About the Viral Hepatitis Action Coalition
The Viral Hepatitis Action Coalition (VHAC) is a public-private partnership developed by the CDC Foundation. Members of VHAC are committed to helping CDC make meaningful advances in the prevention, diagnosis, and treatment of viral hepatitis both in the United States and throughout the world. Coalition members help support crucial CDC-led research and programs and amplify CDC's messages to the public to increase overall awareness of viral hepatitis. For more information, please visit www.viralhepatitisaction.org.
---