Population Covered by a Ban on Tobacco Advertising Has Doubled
The number of people worldwide covered by at least one life-saving tobacco control measure has more than doubled in the last five years. According to the World Health Organization (WHO) Report on the Global Tobacco Epidemic 2013, about 2.3 billion people now benefit from at least one effective tobacco control measure. The report, released today in Panama City, focuses on bans on tobacco advertising, promotion and sponsorship.
The report found that the number of people covered by bans on tobacco advertising, promotion and sponsorship, increased by almost 400 million in the last five years and about three million people are now covered by national anti-tobacco campaigns. Bans on tobacco, promotion and sponsorship are proven to be a highly effective way to control tobacco use. As of today, 24 countries have introduced complete bans, and 100 more are close to a complete ban.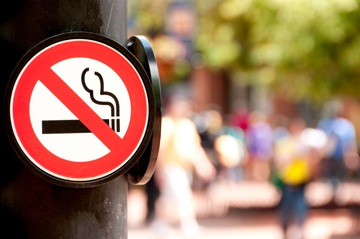 The report noted that while there has been a steady increase in the number of countries that have established complete bans, much of the world's population is still not covered by this type of ban. Currently, 65 countries do not ban any tobacco advertising, promotion and sponsorship activities or have a ban that excludes advertising in national broadcast and print media. In order to achieve the global target of a 30% reduction in tobacco use by 2025, greater action will need to be taken by countries to implement comprehensive tobacco control programs.
Tobacco is the leading cause of preventable death worldwide and kills nearly 6 million people every year. It can cause cancer, cardiovascular disease, diabetes and chronic respiratory diseases. If current trends continue, the number of deaths attributed to tobacco smoking could rise to 8 million per year by 2030. In defiance of the deadly effects of smoking, tobacco companies are spending tens of billions of dollars each year on advertising, promotion and sponsorship.
This report is the fourth in a series of WHO reports on the status of the global tobacco epidemic. It provides a country level examination of tobacco control measures and identifies countries that have applied selected measures for reducing tobacco use.
---
---
---