Tobacco Control Efforts To Save 7 Million Lives by 2050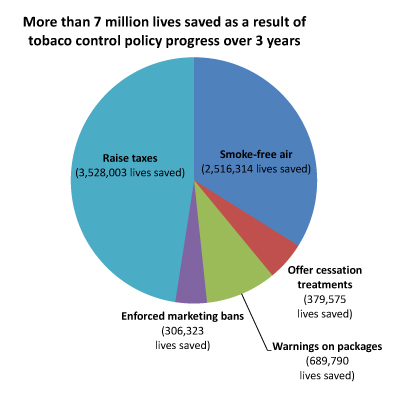 On July 1st, the Bulletin of the World Health Organization published a
study
that shows more than 7 million lives will be saved around the world by 2050 as a result of tobacco control measures put into place between 2007 and 2010. The study is unique in that it is one of the first to look at the effect of tobacco control measures on lives saved since the establishment of the World Health Organization Framework Convention on Tobacco Control (WHO FCTC) in 2005.
The study, conducted by experts at Georgetown University, along with Bloomberg Philanthropies, finds that by implementing simple tobacco control policies, such as raising tobacco taxes and establishing smoke free public places, governments can save millions of lives.
According to the World Health Organization (WHO), if current trends continue, the global tobacco epidemic is expected to kill more than 8 million people per year by 2030. The new study provides concrete evidence that by implementing evidence-based tobacco control measures, as outlined by WHO in the MPOWER package, millions of lives can be saved and tobacco epidemic can be curbed.
The adoption and implementation of evidence-based policies to reduce tobacco use in low- and middle-income countries is the primary goal of the Bloomberg Initiative to Reduce Tobacco Use. As a partner in the initiative, the CDC Foundation supports the Centers for Disease and Prevention (CDC), WHO and other international partners as they work with countries to implement the Global Tobacco Surveillance System (GTSS), which strengthens the monitoring of global tobacco use and measures key tobacco control measures. The primary aim of GTSS is to reduce the global burden of tobacco use by enhancing the capability of countries to design, implement and evaluate tobacco control interventions and measure the components of the MPOWER package.
---
---
---