New Hepatitis C Screening at the University of Alabama at Birmingham
May is Hepatitis Awareness Month. In the Emergency Department at the University of Alabama at Birmingham (UED), we're gearing up to begin a new Hepatitis C Virus (HCV) screening program targeting "baby boomers" (individuals born from 1945-1965). Hepatitis C infections are now 75 percent curable thanks to new treatments and the CDC estimates that a one-time testing of all baby boomers could detect more than 800,000 additional people with hepatitis C and save more than 120,000 lives.
Implementation of UAB's screening program was set in motion thanks to an award from the CDC Foundation's Viral Hepatitis Action Coalition. Our collaboration began when we were selected (along with medical centers in New York, Detroit and Houston) to participate in CDC's Birth-cohort Evaluation to Advance Screening and Testing for Hepatitis C. We have been testing the effectiveness of CDC's new birth-year-based (baby boomer) screening strategy as compared to the previous risk-based approach.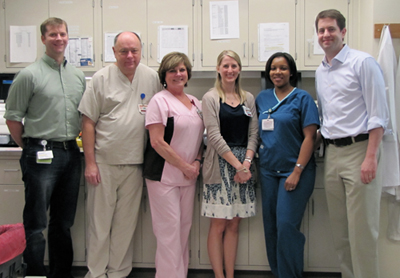 The UED is an urban, academic emergency department serving a large geographic area, and approximately 32 percent of UED patients are members of the baby boomer birth cohort. The UED is therefore uniquely capable of identifying baby boomers and other individuals disproportionately affected by HCV infection including persons presenting with new symptoms of liver disease, cases of newly diagnosed HIV infection, and individuals with a history of IV drug use.
The HCV testing program was designed to mirror the UED's concordant opt-out HIV screening initiative, which has screened greater than 30,000 individuals and identified more than 200 HIV+ cases since August 2011. To limit UED workflow disruptions, emergency department patients born between 1945 and 1965 will be electronically identified at registration leading to a required HCV assessment by a triage nurse. During the brief three-item assessment, nursing providers will notify baby boomers about CDC's birth cohort screening recommendation and the UED's HCV screening service available at no cost. Unless they refuse, an automated HCV antibody assay will be ordered for eligible birth cohort patients unaware of their HCV status. Results of the HCV assay will be available within 30 minutes and delivered to patients prior to discharge. The UED anticipates screening between 8,000 and 12,000 baby boomers for HCV in 2013 and will potentially identify between 260 to 400 new cases of HCV infection.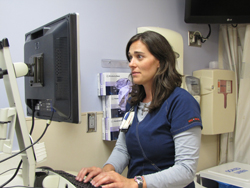 Patients testing positive to both initial and confirmatory HCV tests will be linked to appropriate antiviral treatment services by a linkage coordinator with the help of the UAB Liver Center, Liver Transplant Clinic and 1917 Liver Clinic. The linkage coordinator will also help positive HCV cases establish a primary care physician so they are able to maintain consistent healthcare throughout the progression of their disease. UAB Charity Care services will also be utilized to help patients with limited resources obtain appropriate medical care.
Additional deliverables of this testing initiative include heightening HCV knowledge and risk factor awareness among UED patient and provider groups. We hope that achieving these project goals and deliverables will establish feasible and effective HCV screening and linkage-to-care operations that may be modeled by other emergency department settings.
Learn more:
Know More Hepatitis, CDC's multimedia campaign to encourage one-time hepatitis C testing for baby boomers
---
---
---