Louise Martin, DVM, MS, EIS '85 Endowed Memorial Scholarship
Supporting Girls' Education in Kenya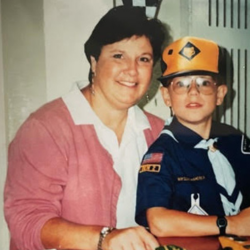 Mary Louise Martin, DVM, MS, EIS '85, dedicated her life to improving the lives of children. As a scientist at the Centers for Disease Control and Prevention (CDC), Martin conducted research on birth defects and developmental problems, focusing on fetal alcohol syndrome. Later, as a public health advocate, she worked to ensure anti-malarial drugs were available in developing countries to help prevent suffering and death for the world's poorest children. She lost her life in the American Embassy bombing in Nairobi, Kenya, on August 7, 1998, alongside the 11 other Americans and more than 200 Kenyans killed. In 1999, to honor her memory and passion for girls' education, family, friends and colleagues established the Louise Martin, DVM, MS, EIS '85 Memorial Scholarship Endowment. The endowed fund guarantees that at least 15 disadvantaged Kenyan girls each year will receive a scholarship to attend Starehe Girls' Centre, a national school. The number of scholarships provided each year will only grow with time and support.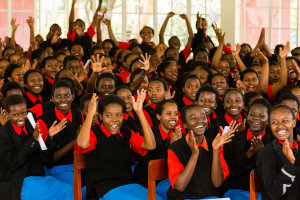 At Starehe Girls' Centre, students learn traditional academic subjects as well as professional skills. The school motto, Our Education, Our Strength (Elimu Yetu, Nguvu Yetu), reflects a spirit of academic excellence, which can be seen in the remarkable record of achievement among its students. About 95% of Starehe graduates have attended university since 2008. In 2022, 83% of Starehe graduates were admitted to public universities, while the remaining 17% qualified to join technical institutions. These statistics are more remarkable considering that Starehe does not charge fees for its students, all of whom come from challenged economic backgrounds. To pay their way, the school seeks scholarships from sources like the Louise Martin Endowed Memorial Scholarship. The average cost for one girl's scholarship is about $635 annually. Since its inception, the scholarship has sponsored 23 girls through four years of secondary school, giving them the educational foundation needed for a successful future. Gifts from generous supporters of the endowment have increased its impact, bringing the number of annual scholarships from the initial 3, to 6, to 10 and 15 beginning in 2022.
Beyond just a diploma, educated women in Kenya are more likely to have higher paying jobs, an improved standard of living, reduced infant and maternal mortality, increased life expectancy, improved status in the family and the community, higher self-esteem and an increased knowledge of individual rights.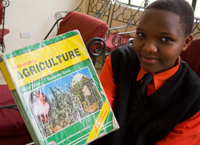 Though the future seems far away for 18-year-old scholarship recipient Ann Chege, she sees her education as a ticket to endless possibility. Eager to learn, with varied interests in English, geography and biology, she is, like many in Kenya, still powerfully connected to her home and the people she left behind when she came to Starehe.
Says Chege, "I can work anywhere in the country, but I would like to go home to help people in my area who do not have an education. They encourage me to succeed because they see me now as someone who can help make a difference."
Please honor Louise and her passion for girls' education, while making a difference in the lives of Kenya's next generation of scholars. Make a gift to the Louise Martin Memorial Scholarship Endowment today.
Funding Partners:
Battelle
Walter R. Dowdle, PhD, EIS Hon. '91 and Mabel Dowdle
Task Force for Global Health
Multiple individuals and organizations
---