Louise Martin, D.V.M., M.S. EIS '85 Endowed Memorial Scholarship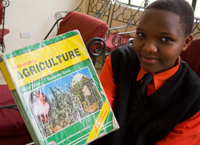 When a terrorist bomb exploded at the American Embassy in Nairobi, Kenya, on August 7, 1998, Mary Louise Martin was among the 12 Americans and more than 200 Kenyans killed. In her memory, friends and colleagues established the Louise Martin, D.V.M., M.S., EIS '85 Memorial Scholarship Endowment to provide scholarships for disadvantaged young women in Kenya to attend a national school.
At the Starehe Girls' Centre, students learn traditional academic subjects as well as professional skills. The school boasts a remarkable record of achievement among its students, sending 87 percent of its girls to university in 2008. It is a statistic made more remarkable by the fact that Starehe does not charge fees for its students, all of whom come from challenged economic backgrounds. To pay their way, the school seeks scholarships from sources like the Louise Martin, D.V.M., M.S., EIS '85 Endowed Memorial Scholarship. The average cost for one girl's scholarship is about $1,000 annually. Since 2005, the scholarship has sponsored 13 young women through all four years of secondary school. The endowment currently supports an additional six students enrolled at Starehe.
Beyond just a diploma, educated women in Kenya are more likely to have higher paying jobs, an improved standard of living, reduced infant and maternal mortality, increased life expectancy, improved status in the family and the community, higher self-esteem, and an increased knowledge of individual rights.
Though the future seems far away for 18-year-old scholarship recipient Ann Chege, she sees her new education as a ticket to endless possibility. Eager to learn, with varied interests in English, geography and biology, she is, like many in Kenya, still powerfully connected to her home and the people she left behind when she came to Starehe.
Says Chege, "I can work anywhere in the country, but I would like to go home to help people in my area who do not have an education. They encourage me to succeed because they see me now as someone who can help."
You can help. Make a gift to the Louise Martin, D.V.M., M.S. EIS '85 Memorial Scholarship Endowment.
Funding Partners:
Battelle
Walter R. Dowdle, Ph.D., EIS Hon. '91
Task Force for Global Health
Multiple individuals and organizations
Program Partners:
CDC's Center for Global Health
---