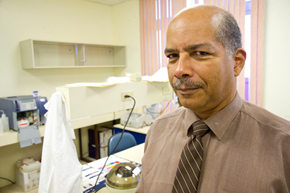 Nearly seven years now into his job as director of the National Public Health Laboratory in Port-au-Prince, Dr. Jacques Boncy can divide his tenure into two distinct halves—his work before the earthquake of 2010, and everything since. While the earthquake devastated Haiti, killing more than 200,000 people, leveling infrastructure, and giving rise to a deadly cholera outbreak, the influx of aid that followed has also had a dramatic impact on the development of Haiti's public health institutions.
"The division of epidemiology was completely destroyed by the earthquake, so they moved here to the lab, but we were very crowded," Dr. Boncy said. "The Centers for Disease Control and Prevention realized we needed office space."
To aid Haiti in moving beyond cycles of emergency response toward a longer-term strengthening of the public health system, CDC contacted the CDC Foundation to identify partners and secure funding for new facilities.
Funded through the CDC Foundation by U.S. donors Kaiser Permanente, General Electric and the Robert Wood Johnson Foundation, as well as through in-kind support from Proteus On-Demand Facilities, CDC helped build two new buildings at a cost of $3.2 million for Haiti's Ministry of Public Health and Population (MSPP) after the earthquake. One, office space on the grounds of the National Public Health Laboratory, is being used jointly by the MSPP's epidemiology, surveillance and research division and CDC staff, working together to head off any future outbreaks. The second, office space at a nearby compound, is slated for use by the Minister of Health and her staff, all of whom have been working from a crowded temporary site since losing their offices to the earthquake.
"The Ministry of Health not having a place to sit is an issue, so having the Foundation step in and offer a solution helped to take that issue off the table," said Brian Wheeler, deputy country director for CDC in Haiti. "The Foundation filled a critical gap, which allowed us to use our resources to fill other gaps, so it created a domino effect."
The investments by the CDC Foundation's partners in the MSPP building helped to leverage additional support from the United Nations and USAID for an expanded MSPP complex in Haiti, which is under development and will include 11 additional buildings for approximately 250 employees.
But rebuilding the physical infrastructure of Haiti's tattered public health system is only one step in the recovery process. By supporting the President's Emergency Plan for AIDS Relief (PEPFAR) in Haiti since 2003, CDC was already working with Dr. Boncy and his staff before the earthquake, a link that proved critical after the disaster.
"This created a platform from which we could grow, so when the earthquake hit we had that in place," Dr. Boncy said. "After the earthquake we had a massive collaboration with CDC, and with this we were able to reorganize the national surveillance system."
Hard hit by the cholera epidemic that followed the earthquake, Haiti's MSPP realized the importance of a nationwide disease surveillance network. Aside from funding key positions on his staff and providing much-needed lab equipment, Dr. Boncy says CDC also retrained his lab staff in key areas like surveillance and microbiology. Equipped with that training, Dr. Boncy's staff have since trained other technicians across the country who work in regionally-based labs, providing diagnostic support throughout Haiti that existed only at the national lab before the earthquake.
"With the help of CDC we have created a network of reference labs," Dr. Boncy said. "Now we are creating labs at regional levels that will be linked with the National Lab. This will help us to report infectious diseases to the National Lab and with the help of CDC we can confirm these emerging pathogens."
Haiti's public health officials, working alongside CDC's multidisciplinary team of epidemiologists, microbiologists, ecologists and public health advisors in the field allow for an integrated investigation and response. This global network is critical for disease detection and response.
"Our main objective is to create an integrated disease surveillance system in Haiti, with the help of CDC. It is important for the country but it is also important for the region because things that happen in other countries can then come here, and things that happen in Haiti can travel to other countries."
Looking back on the days before the post-earthquake intervention, a time when many of his lab rooms were literally empty of equipment, Dr. Boncy says the differences now are striking. Working hand-in-hand with CDC, Dr. Boncy and his staff of 50 well-trained, well-equipped lab technicians are strengthening Haiti's disease surveillance capacity nationwide, gathering public health information from across the country and sharing that information with the government to inform public health policies and responses. Having suffered through both an earthquake and a cholera outbreak, Dr. Boncy says he and his staff are approaching public health with a newfound energy, confidence and focus.
"There has been a change in mentality here since CDC came to help," Dr. Boncy said. "Lab staff have been exposed to extensive training in lab management and the change in mindset is noticeable because people focus on quality instead of only service, and with that mindset, everything changes."