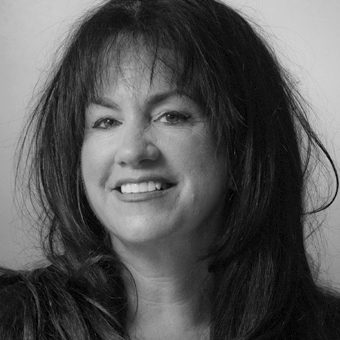 Athens, Georgia-based artist Didi Dunphy is a perfect choice for Watching Hands: working in the intersection of art and design, she creates installations, objects, and interactive media that explore the concept of play. Her enthusiastic willingness to explore healthy handwashing habits through the filter of fun has resulted in an installation that is as motivating, as it is delightful.
Dunphy's installations occupy spaces in a big way in terms of scale, bright pop art-esque colors, and opportunities for participatory activities that often are on the cutting edge of new media. With training as a performance artist, she literally charms her audiences by actively engaging them. And because she is both an artist and designer, she does not shy away from diving into real-world challenges that are sometimes left to practical designers.
Launching her work off of contemporary culture and design, Dunphy is a sociologist and developmental psychologist as much as she is an artist. She often explores how individuals cooperate with one another and how objects of play are linked to cognitive development. By referencing childhood literally and conceptually, she makes her work equally appealing to both adults and children. Interestingly, this appeal to "kids of all ages" is an oft-used strategy in public health campaigns.
Dunphy's installation Bubbles, Bubbles is multifaceted, featuring her signature vinyl cut-outs cascading down the wall, and enMotion® automated towel dispensers with towels imprinted with her designs. Precisely because she positions herself straddling the divide between art and design, Dunphy embraced the possibilities of collaborating with Georgia-Pacific Professional by using its products as the interactive centerpieces of her installation.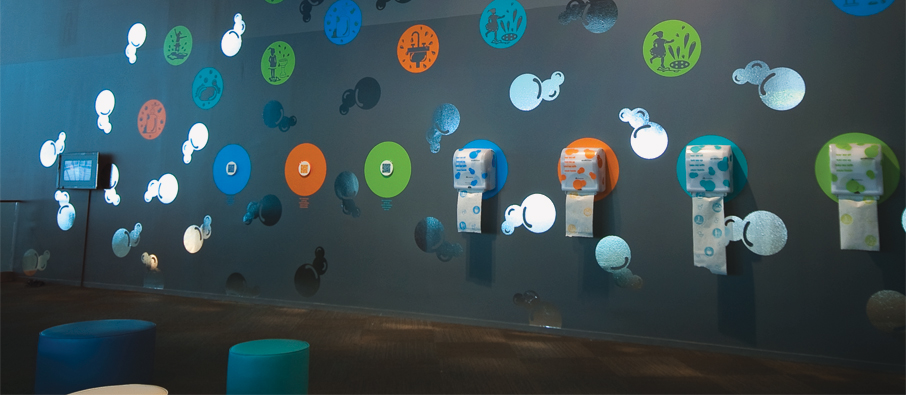 Dunphy began the project by developing a design vocabulary of iconic figures and handwashing-related objects silhouetted within brightly colored polka dots. She has used polka dots as design elements in the past, but in this context they also signify soap bubbles. She then adapted her designs for printed paper towels dispensed from the Georgia-Pacific Professional enMotion® automated towel dispenser—the first time GP has printed on towels used in institutional or business settings. By triggering the dispensers, visitors can obtain take-away paper towels.
There are other participatory aspects of her installation: interspersed with the vinyl polka dots are embroidered QR (quick response) codes that link to videos she has made about handwashing. Taking a cue from feminist art of the 1970s and 1980s, Dunphy uses what has traditionally been considered "women's work"— embroidery—and transforms the craft into action-focused art powered by the most current of social media. For those of us without smartphones to download the videos, we can still watch them in her video lounge, furnished