Saving Lives By Improving Use And Access To Tobacco Surveillance Data And Resources
Globally, tobacco use causes 8 million deaths annually. In light of the COVID-19 pandemic and research finding that smokers are at greater risk for severe COVID-19 infection and symptoms, millions of tobacco users have stated a desire to quit tobacco. To further promote tobacco cessation, the World Health Organization (WHO) launched a year-long global campaign for World No Tobacco Day (May 31) focused on "Commit to Quit."
The CDC Foundation, in collaboration with the Centers for Disease Control and Prevention (CDC), celebrates this year's World No Tobacco Day by promoting access to tobacco surveillance data, including cessation measures, through the web-based GTSS Academy. The GTSS Academy website features data from CDC's GTSSData which includes two global tobacco-related surveys—the Global Adult Tobacco Survey (GATS) and the Global Youth Tobacco Survey (GYTS). These surveys provide globally standardized data to track adult and youth tobacco use across the world, with the intent for countries to use the data to effect change through tobacco control policies and programs. 
GTSS Academy is an online repository for all GTSS-related data, documents, protocols, manuals and trainings, as well as a collaborative environment to engage in tobacco control dialogue to share best practices.
Recently updated GTSS Academy features assist users in exploring GTSS-related resources and create engaging data visualizations that can be used to guide tobacco control initiatives in countries as well as globally. For example, the map visualization shows tobacco smoking quit attempts from publicly available GATS data. Quit attempts range from a low of 18.9 percent in Greece (GATS 2013) to a high of 59.6 percent in Senegal (GATS 2015).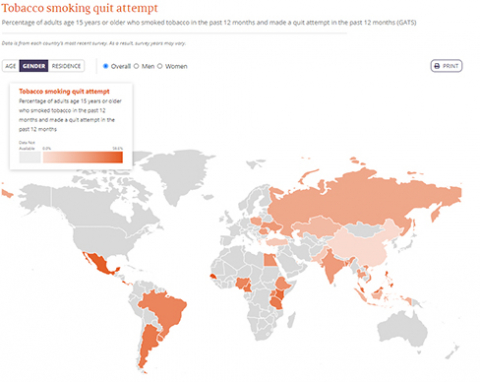 Users can explore map visualizations, such as the one shown with this post, and also download associated charts and graphs. GTSS Academy also enables users to search for GTSS data by country or survey, with easy access to download GATS and GYTS datasets and fact sheets. Additionally, the country comparison tool allows users to easily compare up to five countries at a time and to create data visualizations for select indicators.
GTSS Academy's newly added e-learning courses provide engaging learning opportunities on a variety of tobacco control topics. For example, Treatment and Beyond, is a course that presents information to help enhance health care providers' knowledge and understanding of smoking prevention and tobacco control strategies, while increasing their capacity to provide smoking cessation advice and counseling.
Through GTSS Academy, tobacco control partners, researchers and students have access to robust data and other GTSS-related materials to foster increased accessibility and availability of tobacco surveillance data and resources. Decision makers and public health practitioners can use the data to track trends in use over time to inform effective tobacco prevention programs and policies.
Dr. Indu Ahluwalia, CDC's Global Tobacco Control branch chief notes, "The GTSS Academy is a culmination of hard work and careful consideration to assure that a credible information resource that is easily accessible is made available for global partners. It makes GTSS data readily available to a multitude of partners to inform their country-level policies, programs and research that advance effective and sustained tobacco control."  
Financial support for GTSS Academy was provided by the Bloomberg Initiative to Reduce Tobacco Use through the CDC Foundation with a grant from Bloomberg Philanthropies. We thank Bloomberg Philanthropies for their support of GTSS Academy and their commitment to working with partners to reduce tobacco use across the globe.
---
---
---