Saving Lives Through Effective Partnership
On May 31, the global tobacco control community joins together to mark World No Tobacco Day (WNTD). The aim of WNTD is to raise awareness for the global tobacco epidemic and advocate for effective tobacco control policies and programs that are proven to reduce tobacco consumption and save lives. This year, the theme of WNTD is Tobacco Breaks Hearts to show the connection between tobacco and heart disease. The goals for this year's WNTD are to increase awareness of the link between tobacco use and heart disease and demonstrate feasible actions governments and the public can take to reduce heart health risks posed by tobacco use.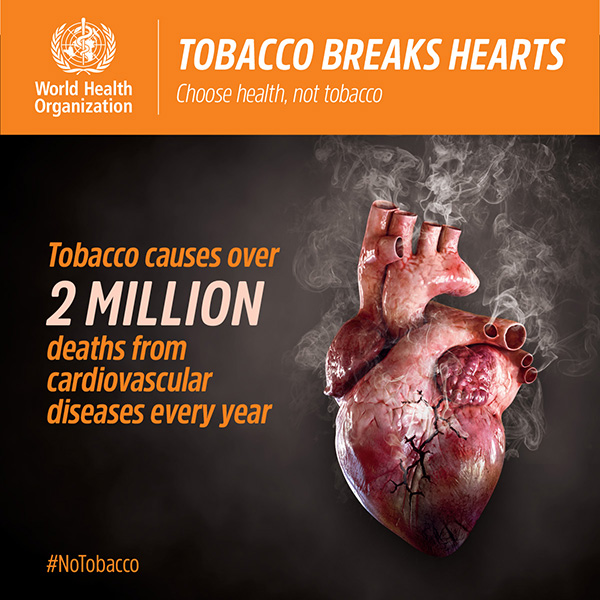 The task of tackling the tobacco epidemic can seem insurmountable, particularly when considering tobacco use is endemic in every part of the globe and is the leading cause of death, illness and impoverishment globally. However, over the last few decades, the tobacco control community—including the public and private sectors—have worked in partnership to prove that even the most dire problem can be confronted and meaningful change is possible.
 
Over the last 11 years, as a partner in the Bloomberg Initiative to Reduce Tobacco Use, the CDC Foundation has played a key role in building public-private partnerships to enhance governments' capacity for tobacco control surveillance and monitoring. In partnership with CDC and the World Health Organization, the Global Adult Tobacco Survey (GATS) has been implemented in 29 countries, with 8 countries completing two rounds. The data collected through GATS has shown a decline in tobacco use prevalence in high-burden tobacco use countries, such as India, Philippines, the Russian Federation, and Ukraine.
The declines in tobacco use were only achieved through strong global partnership and cooperation. While these declines are promising, ongoing work, vigilance and innovation are needed from all sectors to ensure tobacco control remains on the forefront of the global public health agenda. On this WNTD, we are grateful to play a role in empowering countries to take measurable actions to reduce tobacco use and creating a world where people live longer, healthier lives.    
---
---
---