Not Your Typical Summer Camp—Disease Detective Camp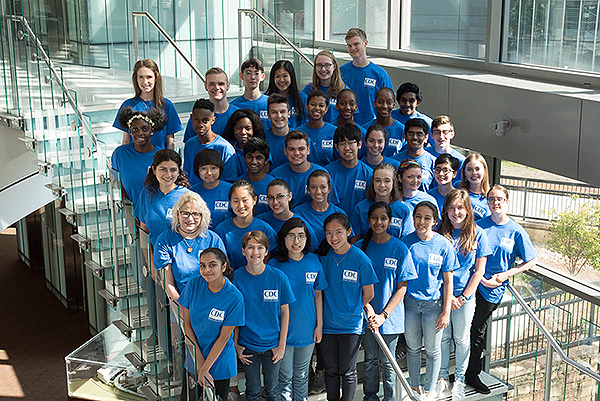 You might think of summer camp as spending time outdoors at a lake, drinking "bug juice" and sleeping on bunkbeds in a cabin. Well I know of a different type of summer camp where young people experience more than just mosquitoes as the typical "bug." 
The Centers for Disease Control and Prevention (CDC) offers students the opportunity to experience life as a disease detective through its week-long CDC Museum Disease Detective Camp. This unique academic day camp held at CDC headquarters in Atlanta gives high school students an experience they will not soon forget, with an eye toward engaging the next generation of epidemiologists.
Rising juniors and seniors are immersed in protecting the public's health through their five-day experience as epidemiologists. They explore real-life topics including public health interventions, global health outbreaks, infectious, chronic disease tracking and more. Campers go through a mock version of the Epidemic Intelligence Service (EIS) training program, the two-year post-graduate program that doctors, veterinarians, and public health specialists complete to become field epidemiologists, or "disease detectives." Just like their real-life counterparts, students work in a fast-paced environment as a diverse team of disease detectives, tackling tough health challenges to save lives.
"Since its inception in 2005, each session of the CDC Museum Disease Detective Camp has provided a unique opportunity for students to learn about the work of CDC and public health from more than 100 CDC volunteers. Students witness the broad range of career opportunities available, as well as the commitment and enthusiasm for work that makes a difference in lives of people around the world," said Judy M. Gantt, David J. Sencer CDC Museum director.
The program started in 2005, and to date 800 teenagers have participated. In an average year, the CDC Museum receives 450 applications for only 66 total spots for two sessions in June and July. Students have come from as far away as Mexico, Spain and Uganda to participate in the unique camp experience.
Michelle Vu, a Doctorate of Pharmacy (Pharma.D.) and Masters of Public Health (MPH) student at Mercer University in Atlanta, GA, attended the Disease Detective Camp in 2011. She noted that attending this camp led her to an opportunity to return to CDC as a health communications summer intern in 2012, and she is applying to the EIS program for the Class of 2019.
"The CDC Disease Detective Camp represented an important start to my career development, which introduced me to public health and provided me opportunities to grow and learn from interdisciplinary leaders in the field," said Vu.
We are grateful to the Stephen B. Thacker Fund, which honors Dr. Thacker's life and service to public health, for its support of the CDC Museum Disease Detective Camp.  
---
---
---