National Public Health Week 2017: Healthiest Nation in One Generation
This week is National Public Health Week—a time to reflect on how the field of public health benefits all of us. An initiative of the American Public Health Association (APHA) for more than 20 years, National Public Health Week aims to raise awareness of important public health protection initiatives and achievements. 
In my first job as a physician, I worked in impoverished areas of rural Tennessee. My patients suffered from a range of chronic diseases like cancer, diabetes, heart disease and stroke. I quickly realized health was more than an individual problem—it was a community problem. That light-bulb moment set me on a path to improve health for as many people as possible.
I am passionate about the science of protecting and improving the health of families and communities through promotion of healthy lifestyles, research for disease and injury prevention and detection and control of infectious diseases. Importantly, public health protection connects us all.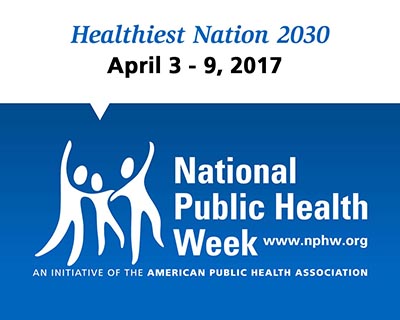 A strong public health infrastructure is key to a healthy economy and a healthy nation. For the Centers for Disease Control and Prevention (CDC), every week is public health week. CDC works 24/7 to save lives and prevent, protect and respond to health threats at home and abroad. CDC's Zika response in the past year is a great example of this, as is their work on preventing healthcare associated infections or work on the current opioid overdose epidemic.
From April 3-9, National Public Health Week will explore a variety of themes aimed at improving the health of our nation and the world. I encourage you to visit the National Public Health Week website to learn more about what we all can do to help create the healthiest nation in one generation.
While National Public Health Week comes around once a year, the CDC Foundation works every day to establish public-private partnerships that protect the health, safety and security of America and the world. The dedication of our partners and donors makes this important work possible. We are proud to support CDC in their lifesaving work.
---
---