Africa United Campaign Emphasizes Protection of Children from Disease
During the unprecedented West Africa Ebola epidemic in 2014, the CDC Foundation worked with global partners to launch Africa United, a public health communications campaign aimed at preventing the spread of Ebola in Africa. Since that time, Africa United has evolved to become a platform that leverages sport to catalyse action on health.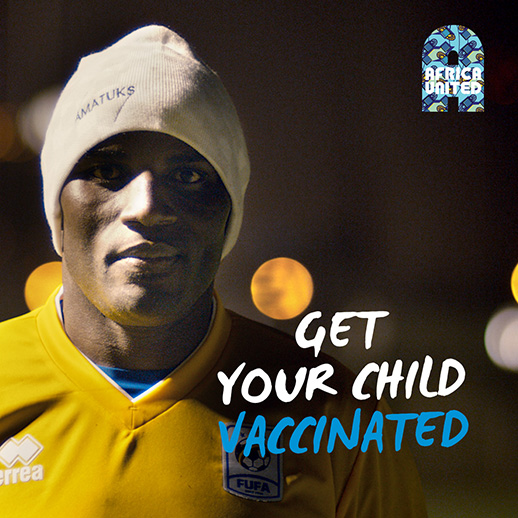 Today, as an official social cause of 2017 TotalTM Africa Cup of Nations (AFCON) tournament, Africa United has teamed up with the Confédération Africaine de Football (CAF) and public health partners on the "Every Shot Counts" campaign. This campaign aims to raise awareness of the importance of immunization for children to tackle preventable diseases, and achieve universal immunization coverage across Africa. 
One in five children in Africa do not have access to basic life-saving vaccines, and vaccine-preventable diseases remain the most common cause of childhood mortality. The new Africa United Every Shot Counts initiative features TV, radio and print ads that encourage parents to vaccinate their children and protect them from these types of life-threatening diseases. 
Partners in Africa United in addition to the CDC Foundation include the World Health Organization AFRO, Gavi, the Vaccine Alliance, PATH, Special Olympics International, Lions Clubs International Foundation and the World Bank Group.
"The Every Shot Counts campaign provides an unparalleled platform to reach audiences with life-savings messages to better protect the health of Africa's children," said Chloe Tonney, chief innovation and strategy officer for the CDC Foundation.
The new Africa United public service announcements are airing during the 2017 AFCON tournament and throughout Africa on TV and radio. The videos can be viewed on Africa United's website.
---
---