World's Largest Tobacco Use Study Possible by Grants to CDC Foundation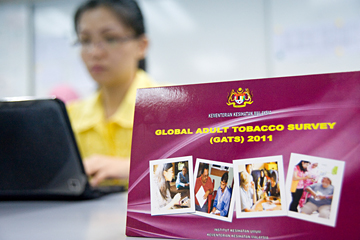 We at the CDC Foundation are incredibly proud of an article included in the current issue of The Lancet, the world's leading general medical journal. The article reports results from the ongoing Global Adult Tobacco Survey (GATS), which, from 2008 to 2010 was completed in 14 countries representing more than 3 billion people, including over 60 percent of the world's adult smokers.
We are particularly proud that the design, launch and implementation of GATS has been made possible by a grant to the CDC Foundation from Bloomberg Philanthropies as part of the larger Bloomberg Initiative to Reduce Tobacco Use. Bloomberg Philanthropies has committed more than $60 million to the CDC Foundation to support the Initiative's work over the last five years. Additional funding from The Bill & Melinda Gates Foundation is supporting GATS implementation in China and WHO's Africa region.
Tobacco is the world's leading preventable agent of death, causing more than 5 million deaths per year. To build effective programs to reduce tobacco use, health experts need data about the scope of the problem in their countries. Prior to the launch of the Bloomberg Initiative, the Centers for Disease Control and Prevention (CDC) had helped establish systems to monitor tobacco use among youth and health professionals in several countries. The support from Bloomberg made it possible for CDC to significantly expand its survey activities to include adults in the low- and middle-income countries most affected by tobacco use.
Funding received through the Bloomberg Initiative, enables CDC to work with the World Health Organization (WHO) and other partners internationally to implement GATS. GATS provides critical data that helps countries monitor adult tobacco use, exposure to secondhand smoke, quit attempts and the effectiveness of tobacco control measures among adults. Countries use data from the survey to direct resources to the most effective programs and policies to reduce tobacco use.
Data for the survey are collected electronically through face-to-face interviews. During the two-year implementation period referenced in the published study, CDC and GATS partners completed 250,000 surveys in 14 countries. Those surveys were conducted in nearly 40 languages and dialects, by 4,300 trained fieldworkers, using 6,000 handheld computers, to collect 65 million data points.
And that work continues. GATS is currently active in 31 countries. Bloomberg Philanthropies recently announced an additional four-year commitment to the Bloomberg Initiative to Reduce Tobacco Use.
CDC plays a vital role in improving global health. From here in Atlanta, and from offices in more than 50 countries around the world, CDC helps countries measure the scope and impact of health problems, identifies and recommends the best strategies to protect people from disease and injury and builds networks of disease detectives to identify dangerous outbreaks before they spread. These efforts improve health and well-being globally. But CDC's global work also protects Americans by preventing the spread of diseases across borders and contributes to a healthy global economy by reducing the impact and costs of health threats on American business operations overseas. GATS is an example of how CDC's approach to helping countries detect and prevent infectious diseases is increasingly being successfully applied to monitor and prevent chronic killers like tobacco use, diabetes and heart disease.
We are grateful to our private- and independent-sector partners like Bloomberg Philanthropies for helping us advance CDC's important work. Our partners recognize the unique opportunity to save lives and improve health by supporting CDC.
While 100 million lives were lost prematurely due to tobacco use in the last century, this study notes that the World Health Organization estimates that if current trends continue, the number of preventable, premature deaths in this century will be far greater. We hope to continue to leverage our ability to connect CDC with private-sector resources and expertise to help CDC and its partners globally reverse that trend.
View Photos from GATS in Malaysia
---
---