World Polio Day Provides Focus on Progress toward a Polio-Free World
Sixty years ago few diseases struck as much fear in parents and children as polio. It's difficult for us to imagine in the United States today, but in the 1940s and 1950s polio crippled an average of 35,000 people each year. Thanks to an aggressive vaccination effort, the United States has been polio-free since 1979, but people in many areas of the world continued to suffer the terrible effects of polio.
That began to change in 1988 when the World Health Assembly adopted a resolution for the worldwide eradication of polio, marking the launch of the Global Polio Eradication Initiative. This initiative has been spearheaded by national governments along with the U.S. Centers for Disease Control and Prevention (CDC), Rotary International, the World Health Organization (WHO) and UNICEF. Substantial support for this effort has also been provided by the Bill & Melinda Gates Foundation.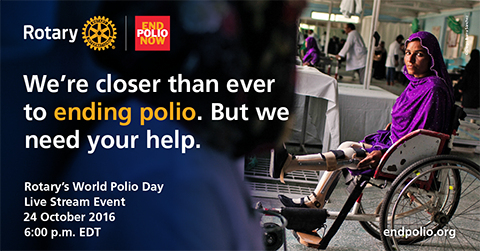 The results of this initiative have been nothing short of incredible. Since 1988, polio cases across the globe have plummeted. In that year, there were more than
350,000 cases of polio
, according to WHO. Fast forward to 2016, and there have been just 31 cases worldwide, primarily in the three remaining endemic countries of Afghanistan, Nigeria and Pakistan.
Today, the end goal of a polio-free world is within sight, but more is left to do to get to zero cases. World Polio Day—Monday, October 24—provides an opportunity to focus on finishing the remarkable drive to eradicate this devastating disease. In recognition of this day, health officials, Rotary members and other partners will gather at CDC in Atlanta for a World Polio event.
The CDC Foundation joins with these groups in honoring the inspiring work taking place to end polio. And we are pleased to highlight the Bob Keegan Polio Eradication Heroes Fund. This fund was established in 2000 at the CDC Foundation to recognize health workers and volunteers who have incurred serious injury or lost their lives as a consequence of their participation in polio eradication activities. Through this fund, families of the workers who have been the victims of automobile crashes, military conflicts and other life-threatening events receive a certificate recognizing the victim's heroic commitment to polio eradication and a cash tribute.
On World Polio Day 2016, we at the CDC Foundation are energized by the dedicated organizations, health workers and volunteers working so hard to eliminate polio, and we ask that you honor those that have given so much to ensure a polio-free world by making a gift to the Bob Keegan Polio Eradication Heroes Fund.
---
---