Progress Against Polio: World Polio Day 2015
On World Polio Day 2015, the world is closer than ever to eradicating polio. This annual awareness day is the perfect time to celebrate the many achievements made in global polio eradication by the Centers for Disease Control and Prevention (CDC) and many other international organizations. Today is also a day to reflect upon the urgent need for continued support and awareness of this international public health protection issue.
The incidence of polio cases has decreased by more than 99 percent since global eradication efforts began in 1988. Since then, there have continued to be been great strides in eradication. The World Health Organization announced the removal of Nigeria from the list of polio-endemic countries in 2015, after a year without a reported wild poliovirus case in that country.
Another large milestone occurred on March 27, 2014 when CDC Director Dr. Tom Frieden and senior CDC immunization staff traveled to India as it was certified polio-free, along with the other 10 countries of the Southeast Asia Region. Eighty percent of the world's people now live in polio-free areas.
Poliovirus transmission is ongoing in two endemic countries – Afghanistan and Pakistan—with 51 reported cases this year. Increased violence and unrest have hampered efforts of healthcare workers and have decreased access to villages for vaccination.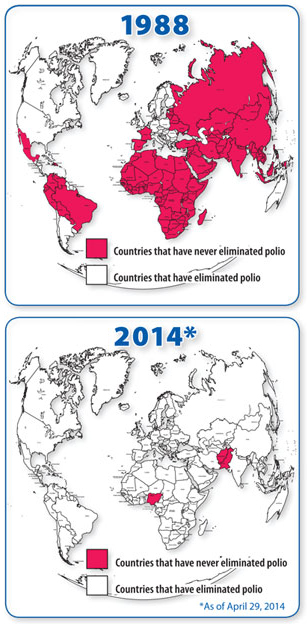 As Dr. Frieden has stated, "If we fail to get over the finish line, we will need to continue expensive control measures for the indefinite future. More importantly, without eradication, a resurgence of polio could paralyze more than 200,000 children worldwide every year within a decade."
The CDC Foundation is proud to support CDC's work in polio eradication through the Bob Keegan Polio Eradication Heroes Fund. Established in 2000, the fund recognizes health workers and volunteers who have incurred serious injury or lost their lives as a direct consequence of their participation in polio eradication activities. The families of the workers, who have been the victims of automobile crashes, military conflicts and other life-threatening events, receive a certificate recognizing the victim's heroic commitment to polio eradication and a cash tribute.
The Bob Keegan Polio Eradication Heroes Fund has been particularly helpful during recent vaccination campaigns in Afghanistan. As recently as last month, six volunteer health workers were injured and one was killed from the injuries he sustained when a land mine exploded on their vehicle in Shega province. The group had just finished vaccinating children in a village and were traveling to the next village to continue their immunization efforts. This fund—supported by philanthropic gifts from people like you—enables the CDC Foundation to provide a modest reimbursement to these individuals who risked their lives trying to rid their communities of polio.
In the words of the late Bob Keegan, who was passionate about this cause, "This endowment allows us to focus on the real issues in the field while rapidly resolving critical problems that so often interrupt our work. The CDC Foundation funding allows [polio eradication] work to continue, and further enhances CDC's reputation as an agency that does what it takes to get the job done."
On World Polio Day, consider making a gift as a reaffirmation of the global commitment to eradicate this childhood disease.
---
---