CDC in Action: World Polio Day 2014
Today is World Polio Day—a day to celebrate the many achievements made in global polio eradication by the Centers for Disease Control and Prevention and its partners. Today is also a day to reflect upon the urgent need for continued support and awareness of this international public health issue.
Rotary International's End Polio Now campaign celebrates nearly 30 years of partnership with CDC as the two organizations raise awareness, funding and resources for worldwide polio immunizations.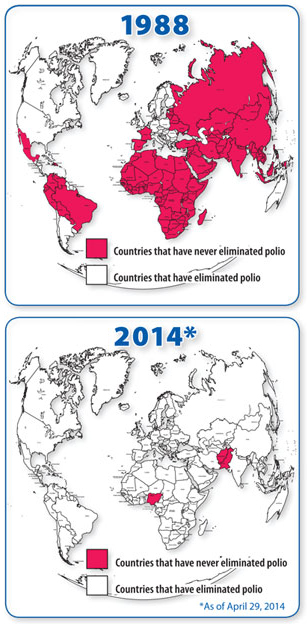 On Tuesday, members of the Rotary Club of Atlanta area gathered at CDC headquarters to tour the CDC Emergency Operations Center (EOC), the CDC Polio research labs and for a presentation about the worldwide polio eradication efforts.
Dr. Greg Armstrong, CDC EOC Director for Polio, spoke about the great strides that have been made by the Global Polio Eradication Initiative—most notably, a 99.9 percent decrease in polio cases since the public health campaign began in 1988.
Since 1999, CDC's Stop Transmission of Polio (STOP) Program has seen over 2,000 team members complete three or five-month assignments in over 66 countries. There is no cure for polio, vaccination is the best protection and the only way to stop disease transmission. According to CDC, 2.5 billion children have been immunized against polio to date.
Today, 80 percent of the world's population lives in polio-free regions. As of March 2014, the Americas, Europe, South East Asia and the Western Pacific have been certified as polio-free regions. Only three polio-endemic countries remain: Afghanistan, Nigeria and Pakistan.
Challenges still exist in widespread immunization efforts, including lack of access to remote areas, political unrest, fear and misinformation.
Dr. Constant Dedo, a Ghanaian medical doctor and a STOP Polio consultant, spoke about his desire to reach the last polio case in the world. Dedo oversees and administers immunizations of children who live in areas that are hard to reach.
"Polio is often concentrated in border areas, since so many people do not go there," Dedo said.
He shared photos of crossing multiple rivers on foot and traveling where there are no roads just to get the polio vaccine to rural children. Dedo almost lost his life in the process.
While immunizing children in Karachi, Pakistan, in July 2012, his vehicle was intercepted by gunmen. Both Dedo and his driver were shot.
After three weeks of recovery in the hospital, Dedo was still determined to do his part to eradicate polio. Once he returned to work, Dedo traveled to Kano, Nigeria, and resumed immunizing children in rural areas.
"I just want to live to see the last case in the world." He said. "I want to end polio."
The CDC Foundation is proud to support CDC's work in polio eradication through the Bob Keegan Polio Eradication Heroes Fund. Established in 2000, the fund recognizes health workers like Dedo and volunteers who have incurred serious injury or lost their lives as a direct consequence of their participation in polio eradication activities. The families of the workers, who have been the victims of automobile crashes, military conflicts and other life-threatening events, receive a certificate recognizing the victim's heroic commitment to polio eradication and a cash tribute.
Robert "Bob" Keegan was the first contributor to this fund, donating the award money he received when we was recognized with CDC's distinguished William C. Watson Jr. Medal of Excellence. When Keegan, former deputy director of CDC's Global Immunization Division, passed away in January 2012, the CDC Foundation renamed this fund in his honor to express our gratitude for his extraordinary leadership and dedication.
Additionally, the CDC Foundation oversees the Endowment for Global Health Priorities. The fund was established in 1999 by CDC employees and retirees who understood the challenges of doing public health work in developing countries to address global health issues. The fund would provide a source of flexible funding to meet critical or emergency needs in the field that could not easily be met through usual government channels.
Thanks to the vision and generosity of those CDC employees and matching support from the Marcus Foundation, the fund has grown to over $250,000 and more than $24,000 has been disbursed to fund program initiatives. The fund has helped support CDC as it addresses polio, vaccine-preventable diseases and other priority global health issues, although it's priority is polio.
In the words of Keegan, "This endowment allows us to focus on the real issues in the field while rapidly resolving critical, frequently inexpensive operational problems that so often interrupt our work. The CDC Foundation funding allows [polio eradication] work to continue without interruption, and further enhances CDC's reputation as an agency that does what it takes to get the job done."
---
---