World Malaria Day: Aiming for Zero
This post also appears on the Malaria Zero website. Visit the site to learn more about the program and view a photo slideshow.
---
Malaria Zero Alliance Unites Partners Against Disease
Jerome Millerand is proud to say that if he does not find you, you can always find him.
"Every day I go to the field from 8:00 a.m. to 4:00 p.m.," Millerand said. "After 4:00 p.m., people come to my home if they need help because they know me as the malaria field agent."
As one of eight such agents in one commune in Haiti, Millerand is on the front lines of the country's war on malaria. Trained and equipped with the support of the U.S. Centers for Disease Control and Prevention (CDC), Millerand goes literally door-to-door in the community of Dilaire, in Haiti's northeast department, testing anyone showing symptoms of malaria, treating anyone who tests positive and monitoring neighbors for the disease. It is active disease surveillance, and for CDC, it represents a key element of a new initiative aimed at eliminating endemic malaria from the Caribbean entirely.
Launched in 2015 with a $29.9 million start-up grant from the Bill & Melinda Gates Foundation, the Malaria Zero project brings together an alliance of nine partners with the goal of eliminating malaria from the island of Hispaniola by the year 2020—a goal that meshes well with this year's World Malaria Day theme of "End Malaria for Good."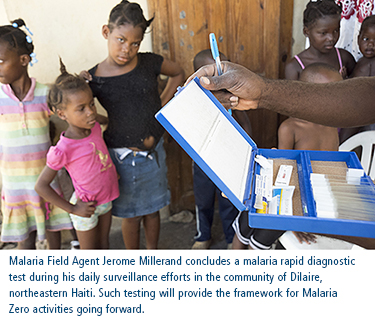 Comprised of Haiti and the Dominican Republic, Hispaniola remains the last stronghold of endemic malaria in the Caribbean. In Haiti, the hardest hit of the two countries, more than 17,000 malaria cases were diagnosed in 2014 alone, proving both a health risk and an obstacle to economic development in the country. Led by CDC and managed by the CDC Foundation, Malaria Zero seeks to bolster existing systems already in place on the island.
Emphasizing community surveillance
"One of the key strategies in Haiti is a proactive community surveillance, where you actually go out and look for malaria cases within communities," said CDC's Dr. Michelle Chang, director of the Malaria Zero project. "We'll also utilize interventions like targeted drug administration to communities, and we'll look for and address any remaining malaria cases."
As with all such efforts, there are challenges. Haiti remains the poorest country in the Western Hemisphere, with limited health and physical infrastructure. In addition, Haiti is beset by a range of public health challenges, including cholera and the presence of other mosquito-borne diseases, such as Zika virus. But, says Dr. Stanley Juin, a monitoring and evaluation specialist for CDC Haiti, the country has made significant progress, particularly in disease surveillance, since a devastating earthquake struck Haiti in 2010.
"In 2010 we had only 52 (disease) sentinel sites around the country," Juin said. "Now we have 353, so the ministry (of health) is taking huge steps in combatting malaria as well as other diseases."
Coupled with that capacity building, CDC has provided a wide range of training and equipment for technicians at Haiti's National Public Health Laboratory in Port-au-Prince, including support for an insectary that was established from funding provided through another agency. In the insectary, lab staff can test the efficacy of insecticides being used to control malaria-causing mosquito populations.
"There is no malaria parasite drug resistance in Haiti, and that makes our options much greater for designing an elimination strategy," said Dr. Chang. "There is also virtually no insecticide resistance among the malaria carrying mosquitoes, so that also bolsters our selection of tools significantly."
With the support of the Malaria Zero, the health ministries of both Haiti and the Dominican Republic are also working closely together sharing information about infected individuals who cross the shared border and need to be treated. As such, both ministries meet regularly to exchange information, plan joint elimination strategies and reinforce each other's technical approaches. And while ambitious, says Dr. Chang, the goal of eliminating malaria from Haiti by 2020 is readily achievable if more support for the effort can be secured.
More support needed to reach zero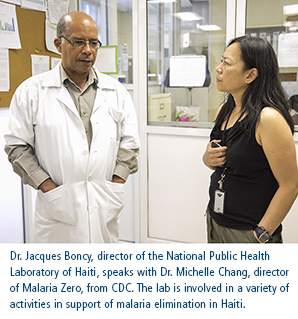 To fully implement the Malaria Zero strategy, which builds on Haiti's National Malaria Strategy, additional resources are needed to increase malaria surveillance in the field and in hospitals, diagnose and treat all malaria cases and use a targeted package of interventions, such as drug administration in communities and controlling mosquito populations, to disrupt the disease. Finally, after the island has been without local transmission for three years, it will be certified malaria-free by the World Health Organization.
"Malaria is one of the biggest global public health problems that we have, but we have an opportunity to eliminate it from Hispaniola within five years," Dr. Chang said. "This would create a malaria-free zone across the Caribbean that would have a tremendous impact on the people of Haiti and the Dominican Republic."
Back in the community of Dilaire, Jerome Millerand's focus is more acute. In just a few minutes of home visits, he has tested three people showing signs of fever—all negative for malaria today. Unable to pursue his dream career in medicine, Millerand says he is giving back in ways that matter nonetheless as a quiet but passionate sentinel on guard against malaria in Haiti.
"I always dreamed of becoming a physician and working with the community," Millerand said. "I did not become a physician, but I gave myself to the community through this work."
Photos: © David Snyder/CDC Foundation
---
---