When Science Inspires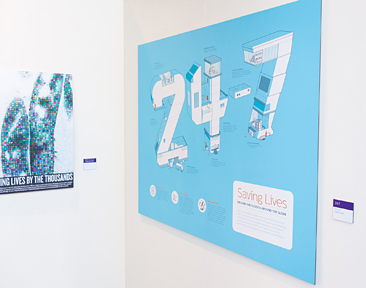 The CDC Foundation partnered with Portfolio Center students in a project to convey CDC's life-saving work.
Students at the Portfolio Center in Atlanta, Georgia, are in the business of being creative. We practice getting inspired every day – sometimes inspiration comes from old postcards, sometimes a line from a movie and, sometimes, we find inspiration in the unexpected.
Earlier this year, eight design and copywriting students were chosen to work with the CDC Foundation to concept and execute designs promoting the idea "CDC works 24/7." We approached this project as a way to get inspired by health and science. And how did we do this? It began with countless hours of research. We read through pamphlets, toured CDC's museum and talked to subject matter experts, combed through the website and, essentially, tried to grasp the essence of CDC. The more research we did, the more layers we discovered – thousands of ways CDC touches our lives each and every day. Our goal was to tell a visual story that explains to the everyday person, the complexity of this complex organization (a daunting task).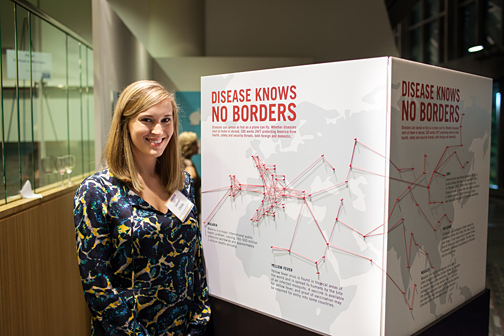 As we began to sift through piles of information, we were surprised to discover patches of familiar ground. The people who work at the CDC, themselves, are creative problem solvers. They find unique solutions to the world's most disconcerting problems and, much like designers, they often have to look far beyond their walls to find answers. Once our class came to this understanding, we found all the inspiration we needed to create our designs. Some designs were literal, showing microscopic images of diseases, while others were metaphorical, relating CDC to vital human organs. No matter what shape they took, each concept had a human, relatable touch and a unique way of visualizing the many roles of CDC.
The CDC Foundation featured our work at its Hero Award ceremony for former President Jimmy Carter, who was the 2012 award recipient. The CDC Foundation will also feature the work in other ways throughout the next year.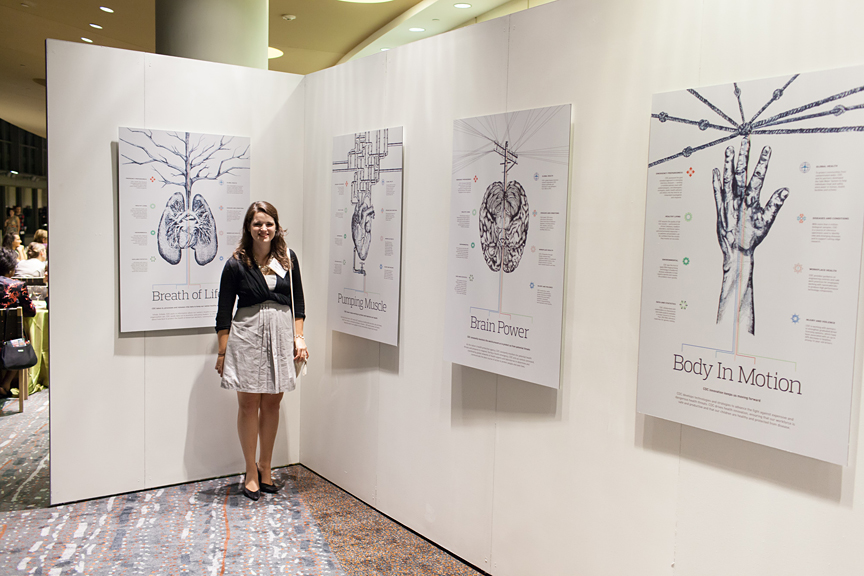 Working with one of the world's largest public health organizations was both challenging and enlightening for us as Portfolio Center students. We had to stretch our minds to a place we rarely visit, a realm where scientists hang out. In the end, we found that this place was actually kind of familiar. It's always good to remember that when we make our designs, write our stories, illustrate our dreams, photograph our lives, we never know what will jump out and catch our imaginations.
Portfolio Center Students:
Vital Organs
Elizabeth Kelley
Melissa Withorn
Amanda Brennan
Danielle DePiper
24/7
Chris Yoon
Danielle DePiper
Disease Knows No Borders
Lauren Childs
Michael Di Cristina
Saving Lives By The Thousands
Ryan Wood
Photos by Chris Yoon, Portfolio Center
---
---