Up Close and Personal in Liberia's Villages
This is the fifth blog post from a CDC Foundation trip to West Africa. On this trip, Charlie Stokes, president and CEO of the CDC Foundation, and two team members were looking at the Ebola response work funded through the CDC Foundation by private sector donors.
Seeing something with your own eyes makes a world of difference.
Since joining the CDC Foundation in 2012, I have read and heard many stories about the important field work U.S. Centers for Disease Control and Prevention (CDC) staff conduct around the world to advance public health. Recently, on a trip to West Africa, including Liberia, I was able to see some of these efforts firsthand, an opportunity that provided me with a very different perspective.
Since the Ebola outbreak heated up over the summer, the nation of Liberia has been overwhelmed by the disease. In total, Liberia has experienced nearly 8,500 cases with more than 3,600 deaths. This epidemic has impacted every facet of society, from health care to commerce. However, there is new hope. Since November, the situation has dramatically improved in Liberia. Cases have been on the decline for weeks now, though considerable work remains to reach and then maintain zero cases. We were encouraged by the incredible progress being made. This progress is only possible because of the work and commitment from the Government of Liberia and other nations, including the United States, as well as non-government partners.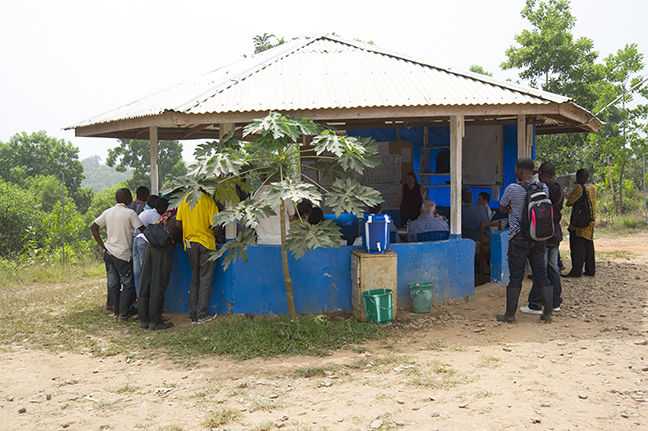 On Sunday, January 18, a group from the CDC Foundation traveled to Grand Cape Mount County, which borders Sierra Leone, to see CDC's team in action. During the trip, we visited the county health facility, where we met with health officials and the CDC field team temporarily based in Sinje. For the vital Ebola response work being conducted there, the CDC Foundation provided much needed internet connectivity as well as materials and supplies used by the team.
While in Sinje, team lead Dr. Agam Rao and her colleagues, including Allison Arwady, Susan Hills, Ben Humrighouse and Namita Joshi, explained CDC's ongoing work with county and district health officers, community health volunteers, and families in local villages to identify Ebola cases and contacts. Contact tracing is a critical and often physically demanding element of this response. Tracking down all the cases and their contacts will enable Liberia to get the epidemic under control. In Sinje, the team's meticulous investigative work has identified several lines of Ebola virus transmission that help explain how the infections occurred.
One of the biggest challenges faced by the team was gaining acceptance and trust of villagers. Many villages served from Sinje, including a small, remote village called Camp 3, are literally off the grid. To reach them, the team must ride sometimes hours over rough terrain. Strangers are not always welcomed with open arms.
However, Camp 3's openness to us on our visit is but one indication of the level of trust built up over time by the work of CDC's field team. This willingness to share information about cases and contacts makes stopping this epidemic possible.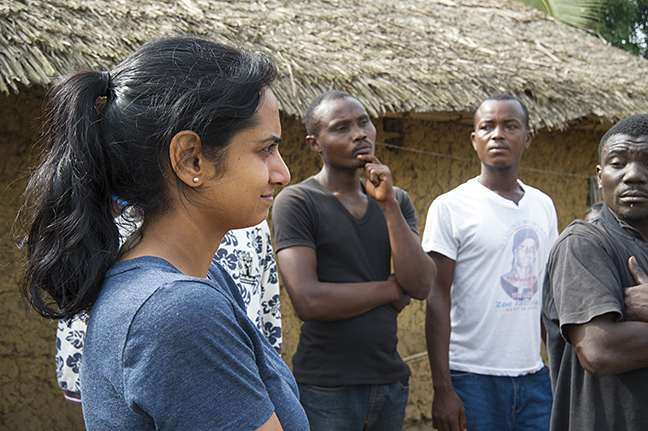 "In Camp 3, they've seen us around and understand we're here to help, so they've become more accepting," said Dr. Rao. "We're still dealing with resistance in other communities, hampering our ability to respond because withholding information means incomplete contact lists, among other things."
For several reasons, the visit to Camp 3 has stuck with me in the week since we returned to the United States. One reason was witnessing the extraordinary suffering of villagers who during the epidemic have confronted 13 Ebola cases and four deaths. Their experience was brought to life in seeing the village's two tents used to rapidly quarantine suspected cases from the other villagers. The tents, as well as the crucial work of the team that disinfects the homes and belongings of those quarantined, are made possible through CDC Foundation donor support.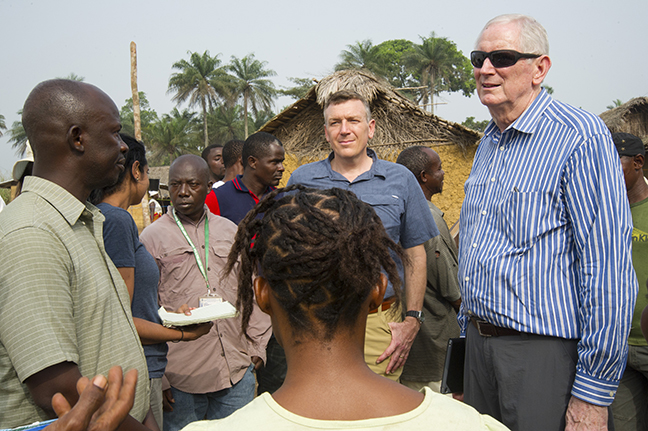 Another reason is that the visit drove home the reality of health and safety issues CDC staff in the field must confront. For instance, they work in areas where Ebola has spread, so they must remain ever vigilant to protect themselves as they go about their important work. Of course, these staff are also working in remote areas, where getting into an accident or a vehicle crash could be life-threatening.
I am inspired by the CDC and Ministry of Health staff, who must confront these challenges every day as they travel to many places more remote than Camp 3.
Looking back, I know Time magazine got it right in December when they named the Ebola responders as its Person of the Year. These heroes are making a difference—for the health and safety of the people of Liberia, the United States and the world—most times in ways we can't begin to comprehend thousands of miles away from home and loved ones.
Photos: ©David Snyder/CDC Foundation
---
---
---