Q&A with New CDC Foundation Board Member Betty King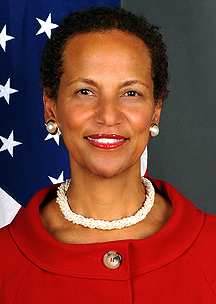 Betty King has been elected to the CDC Foundation board of directors. Betty is the former U.S. Ambassador to the United Nations in Geneva. She served as the U.S. Representative to the Economic and Social Council of the United Nations under Presidents Bill Clinton and George W. Bush. In that capacity, she worked on human rights, development, children, aging and population issues.
The following is my Q&A with Betty King.
What inspired you to serve on the CDC Foundation board?
In varied roles in my career, I spent considerable time on health issues. My most recent role, as the United States Representative to the World Health Organization (WHO) in Geneva, was the most intense and the most rewarding. There, I devoted a lot of time to the subject of non-communicable diseases (NCDs), which has finally caught the attention of health professionals and advocates across the globe. In recognition of my work on and interest in this subject, the WHO recently appointed me as a member of its newly created Commission on Childhood Obesity. Long before I went to Geneva, I worked on this subject with two philanthropic organizations (The Annie E Casey Foundation and The California Endowment), both of which are dedicated to improving the health of disadvantaged children and families. What was new to me in Geneva though, was the close working relationships between CDC and WHO and the significant contributions of CDC, not just to the health of Americans but to people across the globe. This naturally deepened my appreciation of the work of CDC, so I was delighted to join the foundation that plays a vital supporting role in the work of this organization.
What led you to choose a career path in the public, nonprofit and philanthropic sectors?
Having spent my formative years in a small developing Caribbean country, I knew, at an early age, about the disparities in health and social services. At the tender age of 11 years, I fell off a bicycle and broke my right wrist. In my small village, I had no access to an orthopedic surgeon, and the general surgeon was miles away. There was however a "bush doctor" who knew the medicinal benefits of the local plants in which he tightly wrapped the damaged bone, such that he "knitted" it into its socket. Without this intervention I would have been unable to take the nation-wide exam required of all 11 year olds at that time for entrance into secondary schools. This experience is seared in my memory and has influenced many of my career choices, and has informed my thinking in these roles.
What inspires your commitment to improving public health?
Health status is inextricably linked to quality of life and to educational, social and economic achievements. This is true not only for individuals, but for communities and countries. So improvements in public health will have beneficial impacts on education, social and economic mobility for individuals, families and communities. These factors are particularly relevant in today's globalized economy in which mobility plays such a critical role.
What do you think is the biggest issue/challenge facing public health today?
The lack of investment in health infrastructure; the mobility of the educated workforce that concentrates trained health care workers in the big cities across the developed world and the resulting dearth of workers in the poorer communities and countries; the disparities in health care and health status that are correlated with socio economic status; the unequal distribution of the social determinants of health.
What is the role of public/private partnerships in improving health?
The significance of partnerships cannot be overstated. The task is too great for either sector, and given that both sectors benefit equally from improved health outcomes, which cannot be achieved by either sector working in isolation, each sector must play to their strengths. Although it is not always obvious, their interests often overlap, and the intersection of these interests is a good platform on which to build common ground.
What do you like to do for fun?
If you were to ask this question of my friends, they will all say "long walks." I agree with this not because of the CDC context, but because it happens to be true.
---
---
---