The Promise of Education: Scholarships Change Lives for Kenya's Girls
This story was gathered from David Snyder's visit to Kenya. David reports on CDC programs in action for the CDC Foundation.
Her leather shoes shiny clean despite the red dirt of Kenya, black tie neatly cinched around her uniform collar, Anne Chege looks every bit the schoolgirl she is. After nearly four years at the Starehe Girls' Centre, she has had plenty of time to perfect the look. But Chege's journey to the manicured campus of Starehe has been anything but typical.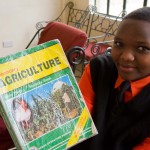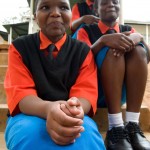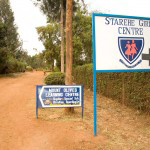 One of nine children born to small-scale coffee farmers in Kenya's Central Province, Chege's story could have ended where many do for African girls – married young after minimal education, her family's limited resources dedicated to her older brothers. But Chege's parents wanted more for their daughters, and when a chance arose in 2006 to apply to the prestigious Starehe Girls Centre, Chege took it.
"A teacher gave me a form," Chege said. "He told me I could make it to Starehe, so I applied."
With the acceptance letter she received weeks later, Chege's life changed in more ways than one. Then just 15, she had never been away from her village of Kiriaini. The shaded campus of Starehe, with its 320 students from all over Kenya, seemed a world away.
"I was very excited because I'd never been to a boarding school," Chege said. "I knew a girl here, so I had a friend. In a while I was able to adapt."
But Chege's journey from a small village to a respected girls' school is only part of the story. Founded in 2005, the Starehe school boasts a remarkable record of achievement among its students, sending 87 percent of its graduates to universities in 2008. It is a statistic made more remarkable by the fact that Starehe does not charge fees for Chege, or any of its students, all of whom come from challenged economic backgrounds. To pay their way, the school seeks scholarships and donors, like the Louise Martin D.V.M., M.S., EIS '85, Endowed Memorial Scholarship that funds Chege's education.
Administered by the CDC Foundation, the Louise Martin Scholarship is named after a former CDC staff member killed in the 1998 bombing of the US embassy in Nairobi. Devastated by her loss, friends and colleagues started a fund to help pay for the education of girls in Kenya, a fund that grew with matching funds from several foundations and is now managed by the CDC Foundation. Recently, Walter R. Dowdle, Ph.D., recipient of the 2010 Fries Prize for Improving Health, generously pledged his $60,000 prize as a challenge to encourage giving. In addition, Battelle has agreed to match gifts up to a total of $20,000.
Chege's scholarship has enriched her life in ways she never would have imagined just a few years ago. Because the Starehe school recruits students from many areas of Kenya, Chege has a better insight now into people from different tribes – tribes she never would have interacted with around her village of Kiriaini.
"Now I am able to understand how others do things," Chege said. "I can work with people from all tribes and learn how they see things."
While Chege plans to attend the University of Nairobi, she wants to make a difference closer to home. She watched her own parents struggle on a small farm and understands the challenges facing Kenya's rural population.
"I would like to study agribusiness or take a course in medicine," Chege said. "By studying agribusiness, I can help solve our country's problems, because most of Kenya's economy is based on agriculture."
Though at 18 she is not sure exactly what her future holds, Chege views education as a ticket to endless possibility. Eager to learn, with varied interests in English, geography and biology, she is still powerfully connected to the people she left behind when she came to Starehe.
"I can work anywhere in the country, but I would like to go home to help people in my area who do not have an education," Chege said. "They encourage me to succeed because they see me now as someone who can help."
---
Make a Gift
We received two special challenge gifts in 2010. Walter R. Dowdle, Ph.D., recipient of the 2010 Fries Prize for Improving Health, generously pledged his $60,000 prize as a challenge to encourage giving. In addition, Battelle agreed to match gifts up to a total of $20,000. We are pleased to announce that these challenges were successfully met, but your gift is still needed to help maximize the impact of this fund and send more girls in Kenya to school.
---
---